Perverse though it might seem to choose a sporting venue that now serves predominantly as a music venue, the SSE Arena at Wembley – opened next door to Wembley Stadium in 1934 and originally called the Empire Pool – is, for me, Britain's finest sporting and leisure building of the 20th century. Part factory, part cathedral, entirely classic.
Its designer, Owen Williams (1890-1969), needs little introduction. Think Boots in Nottingham or Daily Express in Manchester.
Williams was an engineer who employed calculation and pragmatism to deliver functionality loaded with architectural heft.
As the name suggests, the Empire Pool – a £150,000 speculation instigated by Wembley Stadium's chairman, Arthur Elvin – was designed primarily for swimming. In fact it was the world's first indoor pool to host international competitions; the Empire Games in 1934, the Olympics in 1948. At other times up to 5,000 bathers at a shilling a ticket could spend a day there – it stayed open until midnight – swimming, diving, enjoying Britain's first wave machine, sampling its cafés and restaurant, sunbathing on lawns laid by its eastern flank, accessed via tall glazed screens, or taking to the dance floor.
So this was no ordinary municipal pool or lido. Moreover, from October to May the 'Pool' was converted into an ice hockey rink or a boxing arena. In later life it would host Horse of the Year Shows, badminton, gymnastics, the Beatles' last ever live performance in the UK (in 1966) and even comedy (Baddiel and Skinner, in 1993). Depending on the configuration it can nowadays seat up to 12,500.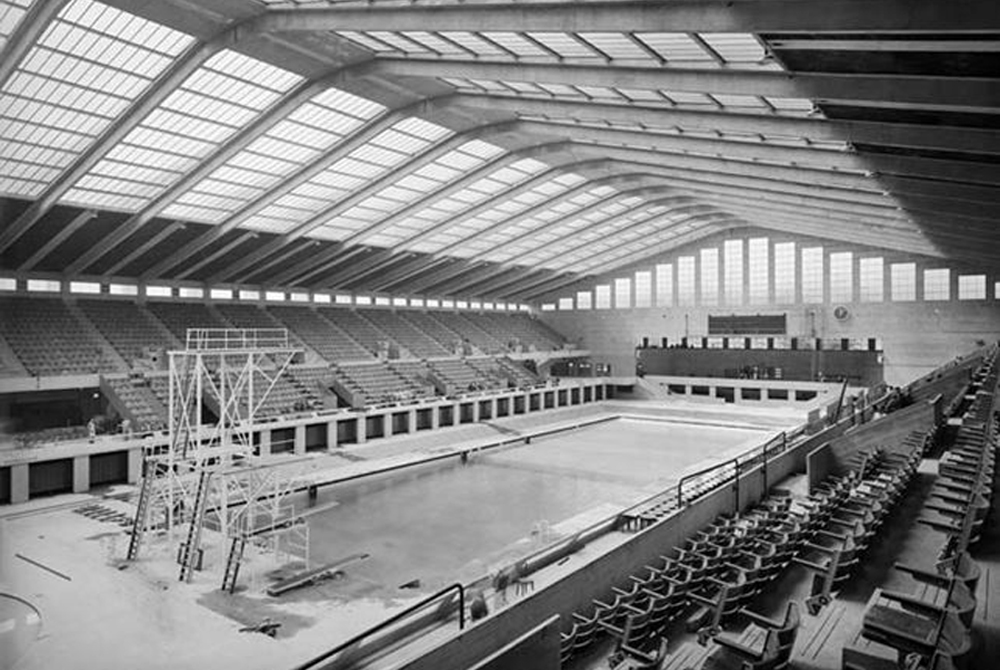 Vintage image of the Wembley Pool © Historic England
Like many others I could wax lyrical about its stark, concrete vertical slabs, stacked along its side elevations, the elegance of its clear span interior, the simple geometry of its seating bays. Today we take such functionality for granted. But the Empire Pool pioneered an entirely new building type – the multi-functional indoor arena that, from London to LA, is now considered an essential component of urban life. (In London Earls Court would follow in 1937. The O2 Arena is a more recent iteration.)
Sadly the pool itself has remained dry since an Esther Williams aquashow in 1956 (although the swimming tank and parts of the wave machine remain, hidden under a retro-fitted concrete floor). But that hardly represents failure. Instead, it is a testimony to the flexibility of Williams' blueprint that the building held its own during the entertainment boom of the late 20th century, and continues to do so today, following a £35 million refurbishment in 2006.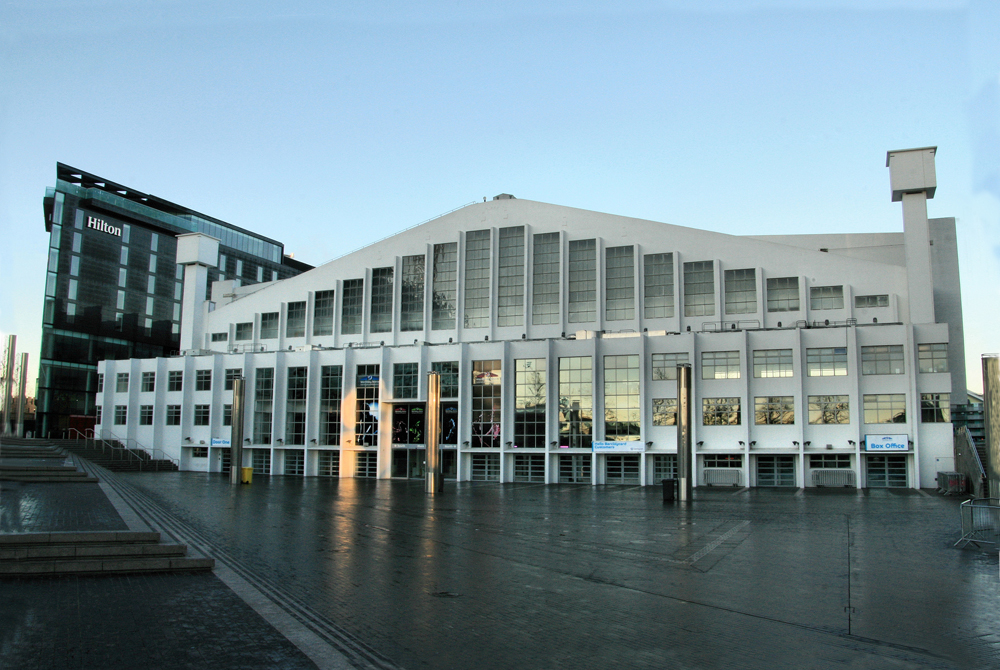 Wembley Arena © Mick Baker
Central to this reinvention has been a simple circulatory volte face. The former public entrance on Wembley Park Road is now the service end, while the east end, still with its glazed screens, has become the public entrance (artfully lit at night). Moreover this new entrance faces onto a pedestrianised public square, on the north west side of which stands the award winning Brent Civic Centre (Hopkins Architects 2013). They make fine neighbours, but it's the Arena – listed Grade II but in my view a nailed on II* – that steals the show.
Form and function, engineering and architecture, all sharing top billing. That is what makes for a great sporting enclosure, whatever is happening inside.