The upgraded Chichester Festival Theatre ©Philip Vile/Haworth Tompkins
I grew up in Sussex, with parents with very different cultural tastes. Father's great love was the cinema. As a teenager he would seat himself in the stalls and sit through several performances – which you could do then. He bought the major film magazines and kept scrapbooks of the leading stars of the day, all carefully collated, numbered and referenced (no surprise that he became an accountant!). Mother was passionate about the theatre, acted at school and had Theatre World delivered each month. For my mother the 1962 opening of the Chichester Festival Theatre was the highlight of her cultural life.
We were already regular theatre goers. We were blessed with an exceptionally good local repertory theatre, the Connaught, and occasional forays to theatre in London included The Old Vic to see Frankie Howerd as Bottom. Mother later talked about returning home and checking her copy of the Works of Shakespeare to make sure that Howerd really had been delivering the Bard's lines – he was that funny.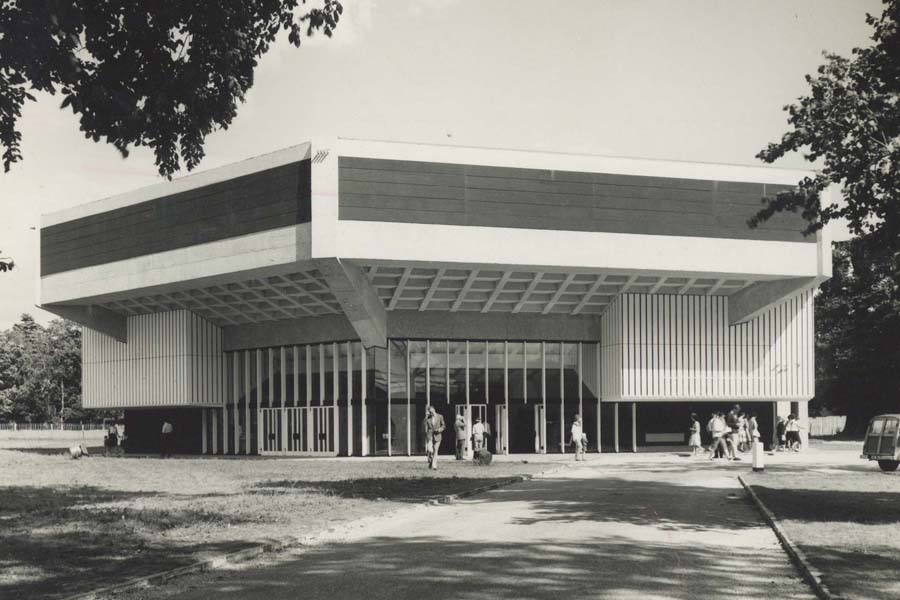 Chichester when it opened © Chichester Festival Theatre
I clearly remember the impact the Festival Theatre had on me the first time we visited. It was our first experience of a thrust stage, and comfortable seats with great sight lines. Then there was the excitement of walking into a theatre with no heavy curtain obscuring the stage and the set already in place. In the interval any set-changing was a performance in itself as it would happen in front of the audience, often worthy of a round of applause for really complicated changes. And on occasion we were so close to the action you could virtually touch the actors. Of course the tradition of actors entering from the wings had no place. Here they could appear through the very entrances and exits that we, the audience, used. As a youngster I wanted to hang around the foyer and watch the actors rushing in and out, though I doubt that would have been allowed.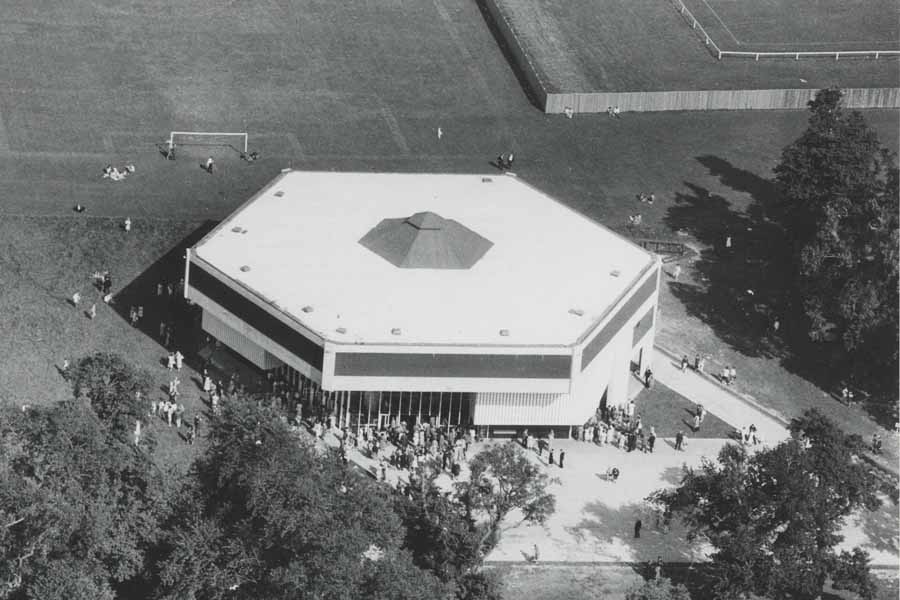 An aerial shot of the theatre in its parkland setting © Chichester Festival Theatre
I know we went to Uncle Vanya in that opening year, but have a much clearer memory of the '63 productions, most particularly Saint Joan. The Dauphin as played by Robert Stephens, was a weak and weedy individual – Shaw himself described him as 'a poor creature physically' though Shaw also gave him some wonderful lines which were delivered in Stephen's distinctive voice. Then in 1964 Robert Stephens was completely transformed when he took on the role of Atahuallpa in Peter Shaffer 's 'The Royal Hunt of the Sun' and when he stepped on to the stage as a towering, noble and majestic figure the impact was astonishing. That same year his then wife Maggie Smith appeared as Desdemona opposite Laurence Olivier as Othello – blacked up and therefore a casting that would be totally unacceptable today. The following year was when Maggie Smith's brilliance was centre stage when she appeared in the double bill of Miss Julie, alongside Albert Finney, and after a 20 minute interval in Black Comedy – Peter Shaffer again. What a contrast, with just a 20 minute interval to make such a major character switch. Black Comedy was one of those plays that left you helpless with laughter, and Maggie Smith's comic timing was sublime. It's really no surprise that she became so acclaimed, and what a privilege it was to be there.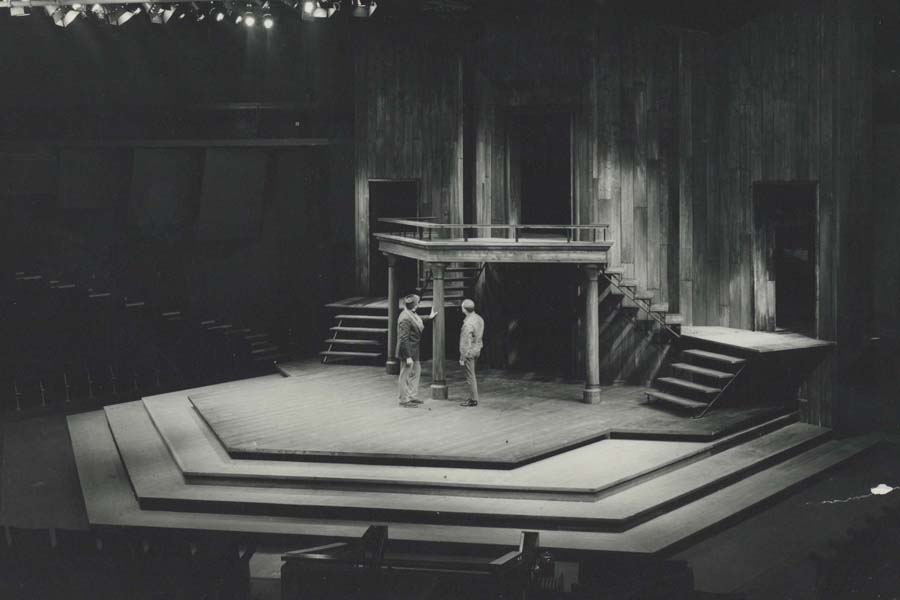 The thrust stage of the Chichester Festival Theatre © Chichester Festival Theatre
And then there's the setting. The theatre is in parkland, so quite beautiful in itself, particularly on a warm summer's day. And very importantly the restaurant in those early years was sensational. It served nothing but Danish open sandwiches, with every possible type of bread and combination of fillings, with strawberries or raspberries and cream for dessert – what's not to love? And to be honest no meals I have eaten at Chichester since have really matched it.
We continued going to Chichester up until my mother's death and then were lucky enough to continue going to at least one production each year, with great friends who lived locally. The theatre had always attracted big stars. In 1995 Lauren Bacall joined Josh Ackland for a production of The Visit, directed by Terry Hands. At the Minerva – the smaller theatre opened for more experimental productions – 'I am Shakespeare' written by and starring Mark Rylance was particularly memorable.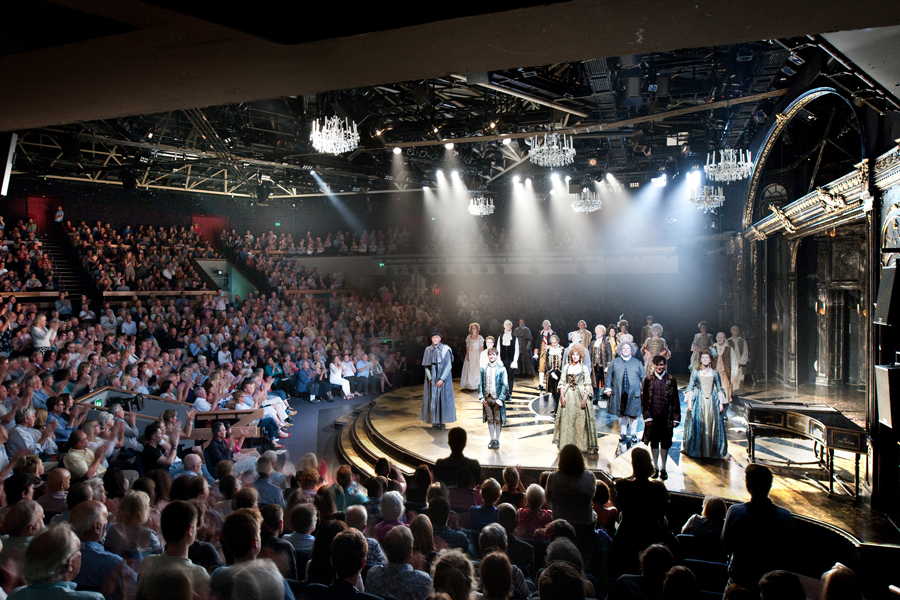 The auditorium as it is today © Philip Vile/Haworth Tompkins
I realise that over my life I have been to an astonishing number of performances there, certainly way more than at any other theatre, and it bred within me a huge love of live performance. However, as it's not always possible to get tickets for the sell-out productions the live theatre productions shown in our nearby Vue cinema have been a godsend. So I can thank both my parents – father for giving me a love of cinema, and mother a love of theatre – now perfectly co-joined.
"The great thing about the superbly renovated Chichester Festival Theatre is that it simply seems like a better version of its former self."

Charles Spencer, The Telegraph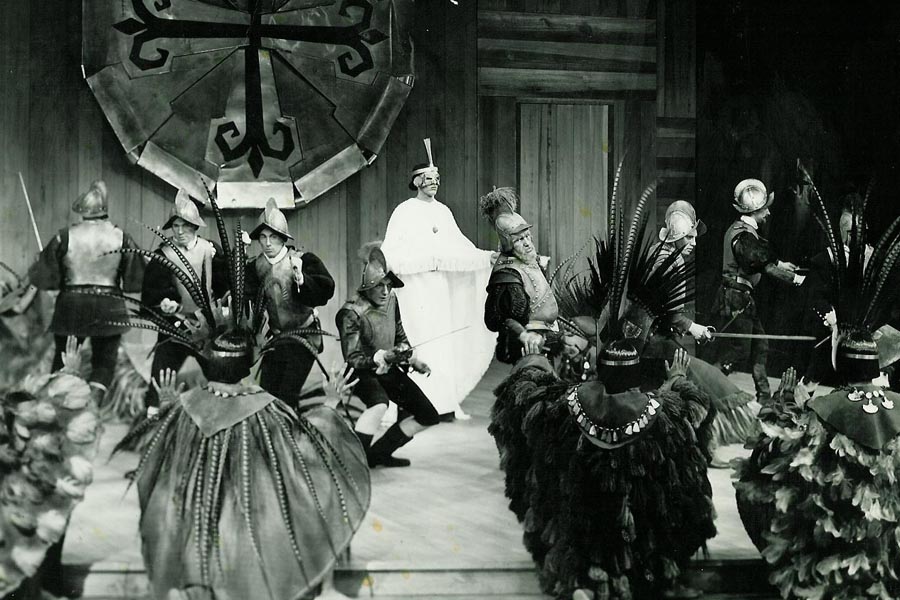 A dramatic moment from the 1964 production of 'The Royal Hunt of the Sun', with Robert Stephen as Atahuallpa. Angus McBean Photograph © Harvard Theatre Collection, Houghton Library, Harvard University