The headquarters of the Royal College of Physicians next to Regents Park © Lorenzo Zandri
When I first moved to London, I was used to walking by myself, exploring the city with my camera without a precise intention. One day I got stuck just off Regent's Park, noticing a concrete-shaped structure right beside the old trees. That was the Royal College of Physicians by Sir Denys Lasdun.
Located on the east side of the park, the Royal College of Physicians (RCP) is Denys Lasdun's underrated but brilliant testament to his brutalist architecture, striking with its facade of concrete and glass.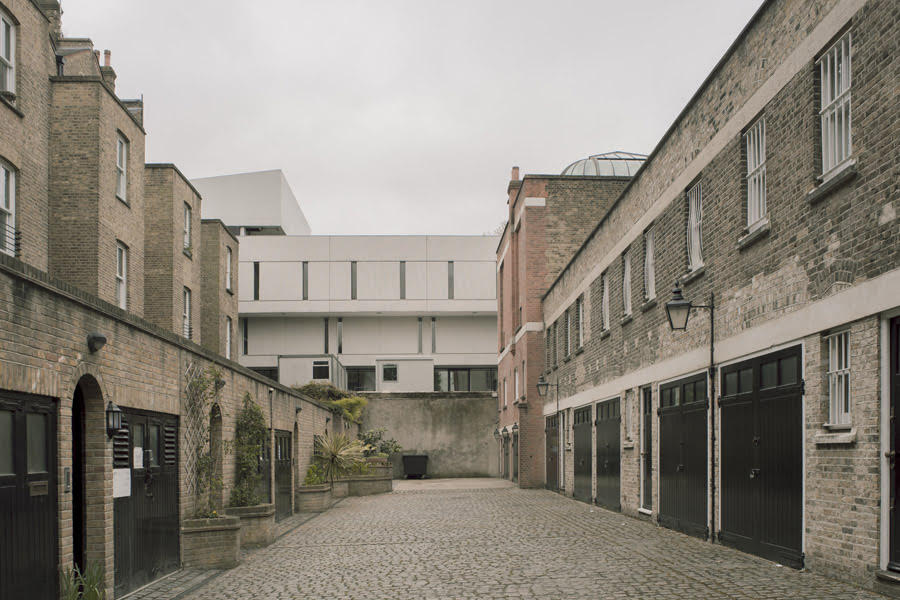 The Royal College, viewed from the mews behind © Lorenzo Zandri
I knew his work before bumping into this building, but this is the one that made me fall in love with this architect. The Royal College of Physicians in Regent's Park is definitely one of the finest 20th-century buildings in London, representing a radical and challenging piece of modern British architecture.
Built between 1958 and 1964, the building provides a careful contrast to the Georgian terraces which nestle around its perimeter, adding his brave modernist shape in one of the most admired Georgian areas of North London.
I have very much enjoyed shooting this building, especially from the outside.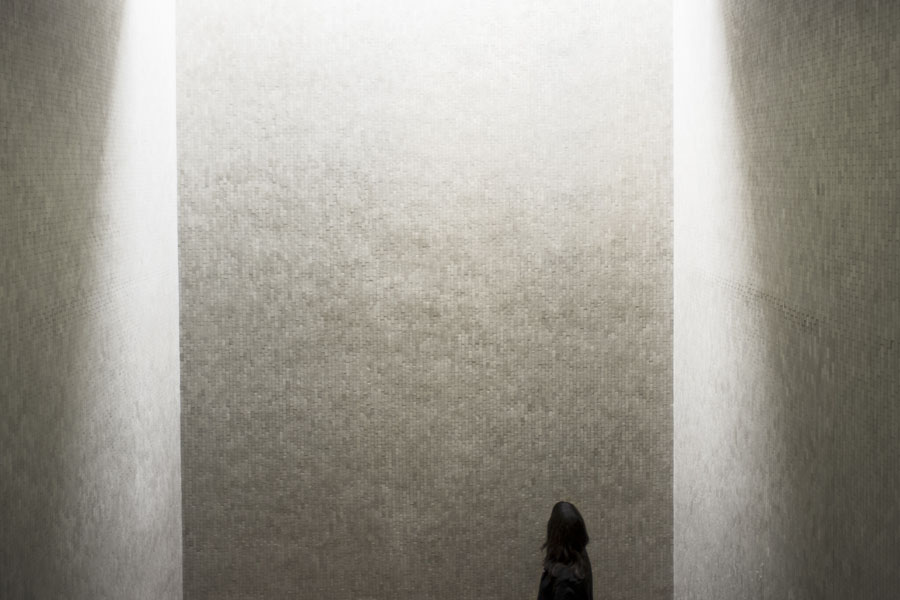 The stunning mosaic clad concrete wall and pillars © Lorenzo Zandri
Walking around both sides into mews and little roads, I have perceived the intention of the architect to be bold but delicate, brave but sincere. Exterior staircases are simply beautiful: modernist functionalism at its best.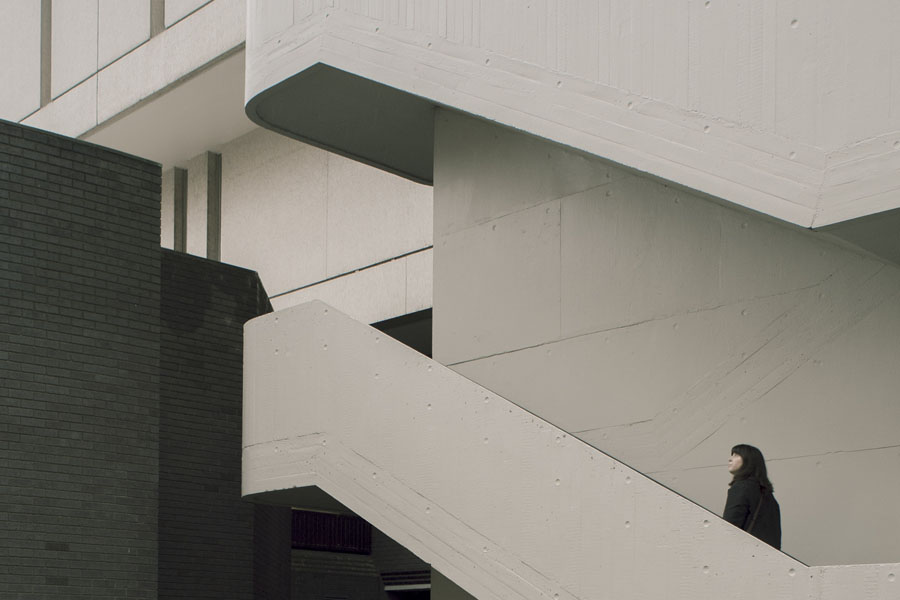 Exterior staircases of modern functionalism evoke Lasdun's National Theatre building © Lorenzo Zandri
Denys Lasdun's design runs throughout this brutalist architecture, although he added some touches of classicism, such as a multitude of elements of furniture and paintings of alumni in the main room, paying tribute to the RCP's deep history and legacy.
I have perceived the same atmosphere inside: a light fall is carefully designed on the upper floor, alongside the gentle helicoidal staircases on the lower floor. His fine design created extraordinary ceremonial and functional spaces within the building, alongside Lasdun's triumph in incorporating these with his own distinctive vision through brilliant details and raw materials.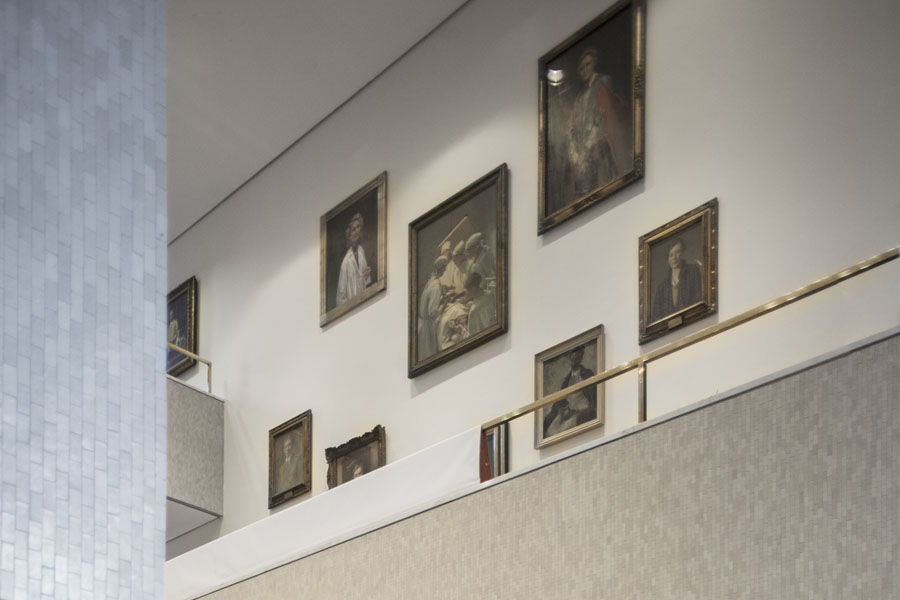 The collection of c. 250 portraits provides a pictorial and sculptural record of presidents, Fellows and other physicians associated with it from its foundation in 1518 to the present day. © lorenzo zandri
The courtyard is something special. A vegetal oasis nestled into this peaceful and calm cloister. I remember loving the overcast mood of the day I was shooting, softening the concrete presence and enhancing the green textures of trees and leaves.
I am glad I have nominated this building: it reminds me of my very first year in London, trying to get along with the city. If architecture can teach us something – such as emotions, or principles – I have learned a lot from the Royal of Physicians.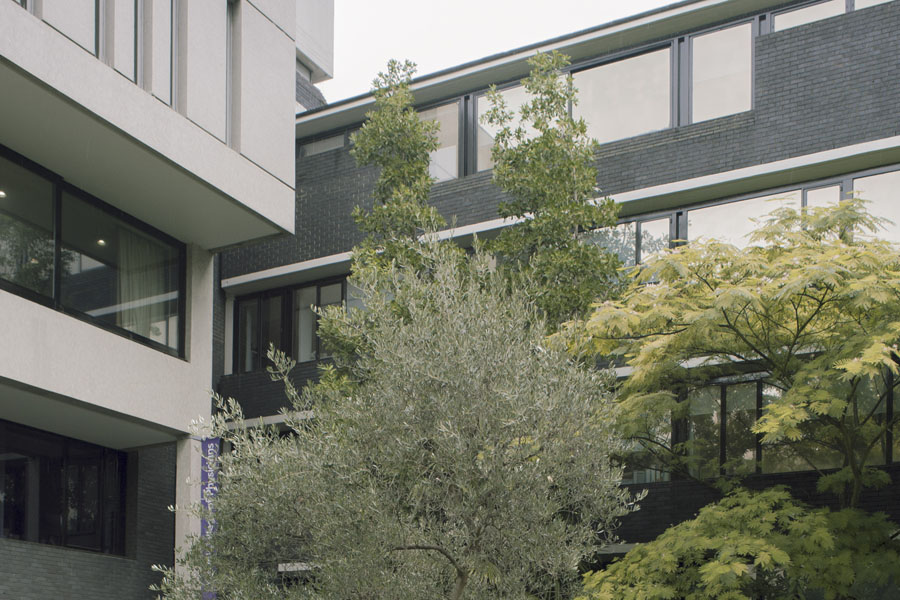 The courtyard is a vegetal oasis nestled in a peaceful and calm cloister. © lorenzo zandri
To be radical, sincere, and brave – and respect our past and history.