The magnificent London Eye, right beside the River Thames, offers spectacular views of London from its 32 capsules..
The architects of the London Eye recognised that their striking idea would never be ready in time to celebrate the Millennium if it were stuck in the planning process. Their one chance was to take a leaf out of M. Eiffel's book and ask for permission for a temporary structure. That the Secretary of State could grant personally for up 4 years 364 days. However, when the request reached my desk it was accompanied by officials' recommendation to refuse. Nevertheless, this was a quasi- judicial matter and I had to act as a judge without pressure from others. However, the application wasn't a secret and there were those determined to stop it. Reaction was rampaging and recruited the great and the good to stop so radical a proposal. The Chairman of the House of Commons Fine Arts Committee was fiercely opposed, Simon Jenkins wanted it – but in Battersea Gardens – and the Chairman of the Fine Arts Commission, was a determined opponent and proclaimed that it would be built 'over his dead body'.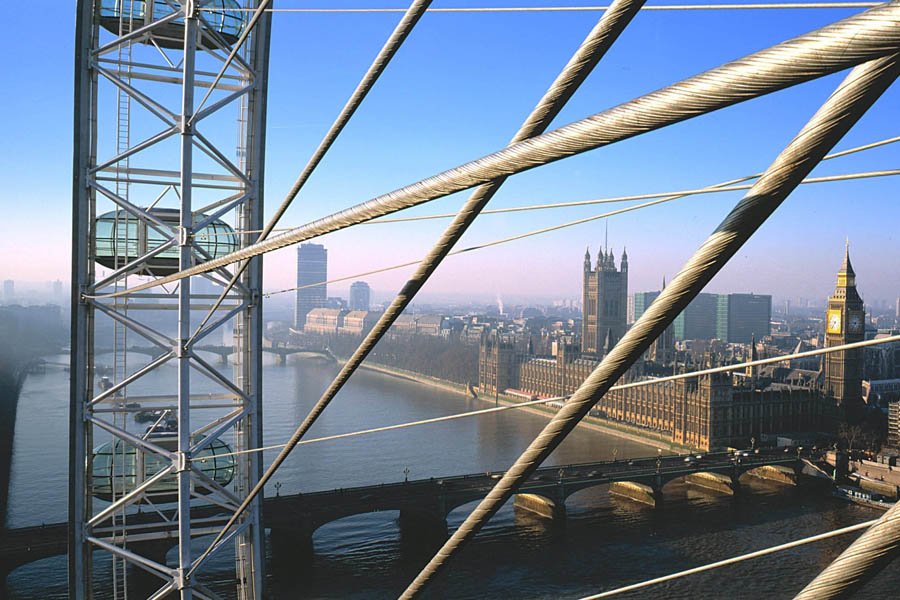 A view from the Eye to the Houses of Parliament ©Nick Wood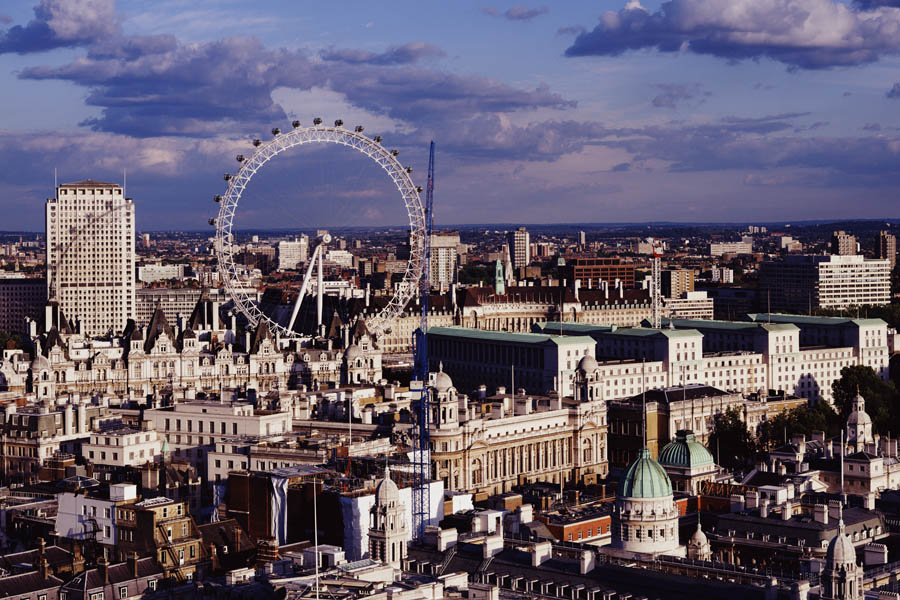 Looking across London to the Eye which dominates the skyline © Marks Barfield Architects
Nevertheless, I thought then as I think now – the London Eye was a brilliantly contemporary addition to the London skyline. Most of the Millennium proposals were very worthy but entirely predictable: extensions to museums and art galleries, refurbishments and enhancements – everything hailed as educational or artistic. Nothing wrong with that except that the Millennium was in danger of becoming a bourgeois fest. Then came this – a wonderful opportunity for everyone to see London laid out before them. Before, only the privileged, from penthouse flats or skyscraping offices, had had that opportunity. London which grew from the river bank was built in a saucer and the London Eye could lift people up and let them see right across the greatest capital city in the world.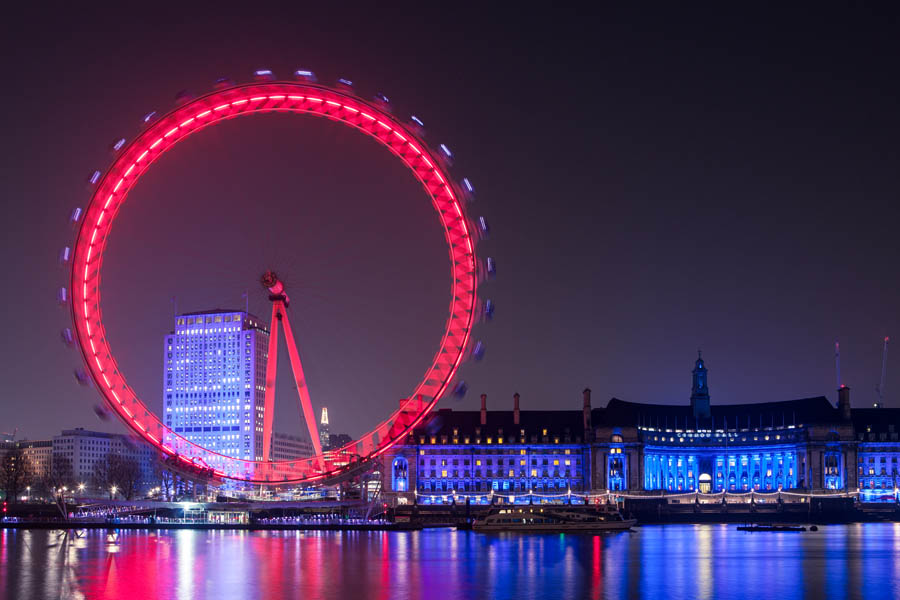 The Eye is lit up to mark special occasions, here striking red against the illuminated blue buildings alongside.
But it is more than that. South London had always been my bailiwick and I resented the way in which the river was a barrier between smart London and areas considered inferior and unworthy. Here was a chance to tempt people across – a central landmark on the wrong side of the Thames! I never realised my subsequent dream – a Rialto inspired live-on bridge linking Temple with the South Bank, the National Theatre, and the London Eye. Yet, the Eye on its own did more than I could have hoped. It helped London to reach out Southwards and gave our capital a new dimension.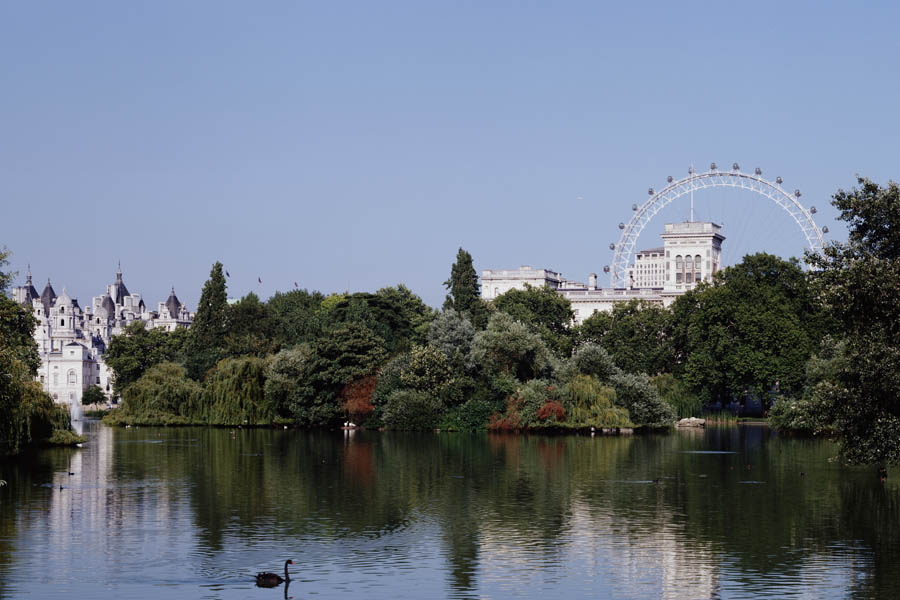 The Eye from St James's Park © Marks Barfield Architects
It's also very beautiful. No wonder it has become an iconic symbol of our capital city. What an achievement – to design and build something so special and spectacular that it takes its place with the Tower of London, the Houses of Parliament, and Westminster Abbey as an immediately recognised landmark. What other 20th Century building here in London vies with that? And the proof is in the planning pudding. To get it they needed to compromise on temporary permission but, when that ran out, there was absolutely no question that it, like M. Eiffel's tower, would last. Public acclaim made full planning permission a forgone conclusion. It is now a permanent part of London and London would not be the same without it.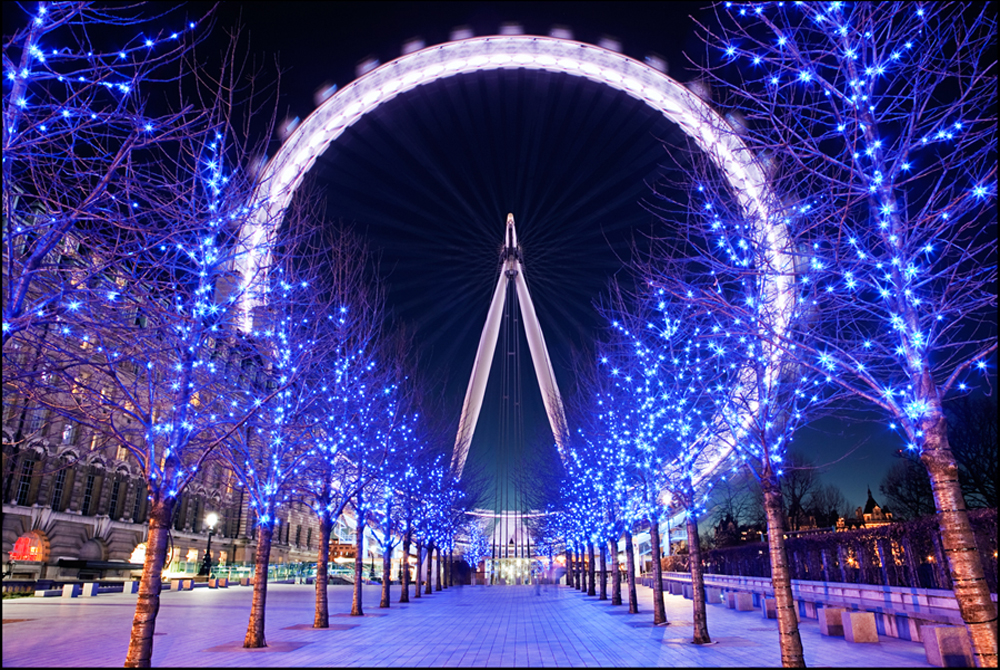 Simon Penwarden, a London-based Design Director, writes about his memories of New Year 1999, and his ongoing love of the Eye.
My first memory of what we then called the Millennium Wheel was seeing the 443ft circular structure on its side, stretching halfway over the River Thames on The Southbank (the wheel was put together over the river, in a horizontal position, before being pulled upright).
When, for once, it actually was 1999. But I remember watching the TV (I was in Manhattan) five hours before I enjoyed my New York New Year, expecting the then upright wonder to be spinning in time with the fireworks. There were fireworks, but the wheel remained frightfully motionless due to a technical error. A nasty case of 'slipping of the capsule clutch', apparently. This was almost as fist- bitingly uncomfortable as seeing The Queen not crossing her arms and doing her alternative version of the Auld Lang Syne, with her mates Tony Blair down at the Millennium Dome.
Three months later in March 2000 the London Eye opened, and until the Shard appeared it was the highest viewing point in the city.
What was meant to be temporary, is, 22 years later, a permanent fixture on the city skyline as London's largest fairground ride with the best views. But, of course, it is much more than just a fairground ride. It's become one of the most recognisable icons of London. With 32 capsules, representing the 32 London boroughs it's now the most popular paying attraction with over 3.5 million visitors each year.
Yes, of course, you can queue up to ride in one of the capsules, and that's a truly wonderful experience. But for many people it's just – there – sitting alongside the Thames, opposite the Houses of Parliament and near the South Bank complex. In fact it's now so ensconced in our memory bank that it's very hard to remember it NOT being there. On a clear day you can see for 25 miles to Windsor Castle and it takes 30 minutes for a full circuit, so if you're lucky and there's some bright 'know-all' in your capsule with geographic knowledge they'll point out all the landmarks.
A lot of people receive marriage proposals riding in one of the cars, so it's considered a very romantic destination – according to the Eye's site, over 5,000 proposals have happened. Though there's no information about whether they've all worked out – maybe some were accepted out of embarrassment, particularly if the proposal happened in front of a load of strangers? "I'll answer you when we get out darling, now look at the view."
I last journeyed the 360 degrees on it in with my family sometime in the summer of 2002. Since my late father suffered from the occasional dose of acrophobia he decided to wave at us for 30 minutes standing at the bottom. I pulled my dad's leg beforehand and accused him of being a 'wuss', only to find myself breaking into a slight cold sweat as I began to rise into the upper ceiling of London at an unnvervingly slow pace.
One minute you're face to face with Big Ben and before you get the chance to say, 'I feel slightly giddy', one is looking down at the city and the view is simple breathtaking and the fear (in my case) was replaced with absolute awe.
That's exactly the reason I will be visiting the London Eye soon, twenty years later. It's a thrill. And maybe this time I'll hire a pod and with a little help with 25 friends –for a 'do' and we can party like it's 1999, again.