Bloomberg's European headquarters in the heart of the city © Nigel Young / Foster + Partners
We live in a world where we value one of a kind architecture whilst also valuing the importance of sustainable design, both of which The Bloomberg building is. Built in collaboration with Foster + Partners, the building is the first fully owned and designed Bloomberg building in the world and brings Bloomberg's 4,000 London-based employees together in a dynamic, innovative workplace designed to inspire collaboration and to push the boundaries of what sustainable office design is really about.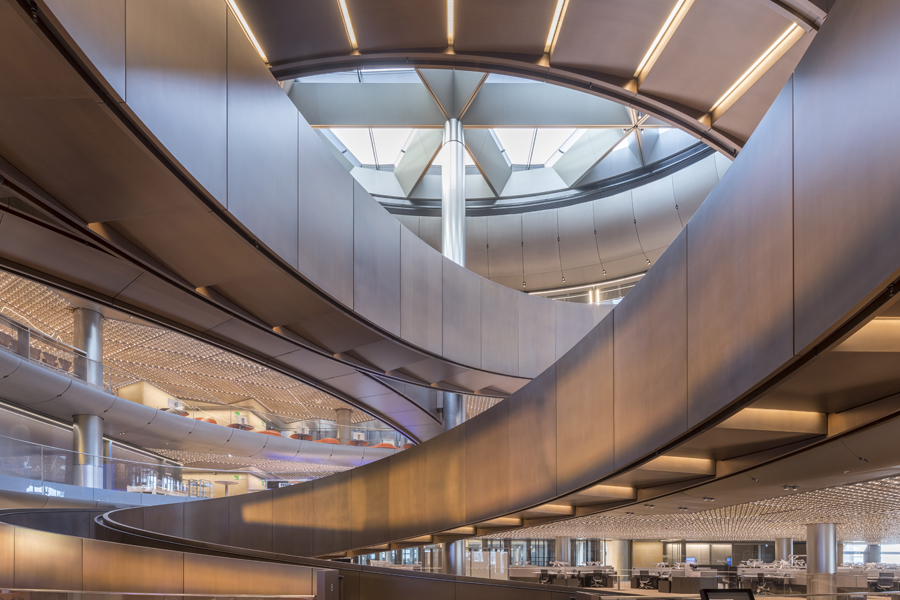 The stunning three-dimensional loop which flows through the building. © Nigel Young/ Foster + Partners
For me, I personally value buildings that are looking to the future with our environment whilst incorporating innovative technologies. The Bloomberg building in my opinion pushes the boundaries of what office spaces are about. As a result of Bloomberg and Foster + Partners doing this they have gone on to make the most sustainable office building in the world achieving a Building Research Establishment Environmental Assessment Method of 98.5%. This has been executed by the likes of integrated ceiling panels that combine heating, cooling, lighting and acoustic functions in an incredibly innovative petal-leaf design. The system uses 500,000 LED lights, and as a result of this uses 40% less energy compared to the typical fluorescent lighting system usually used in offices.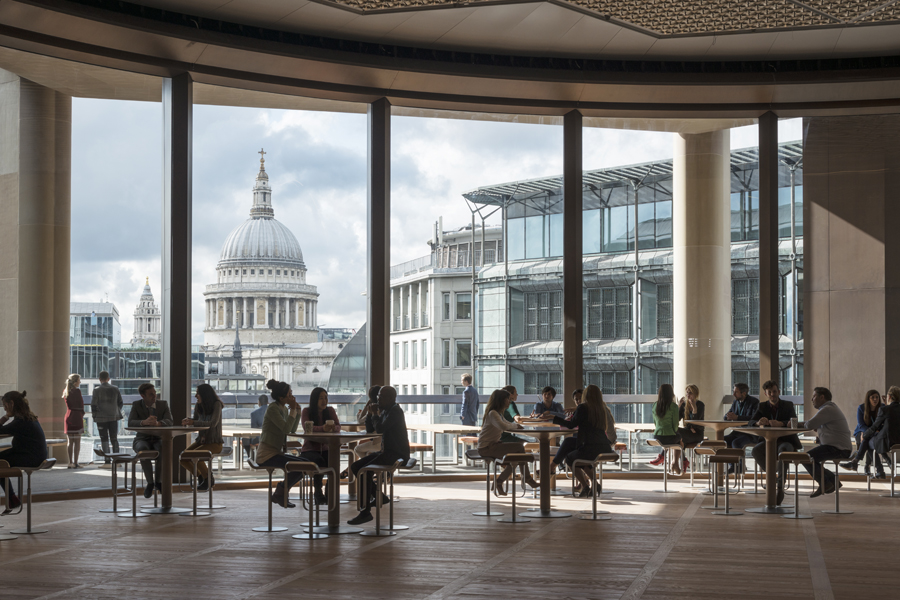 Views of St Paul's through the windowsof the building ©James Newton Photographs/Foster + Partners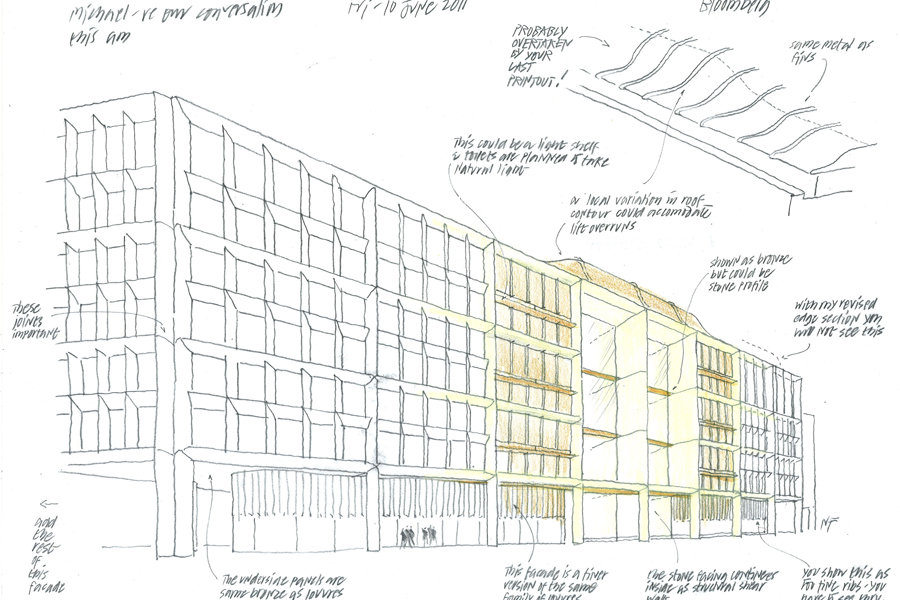 A drawing dated 2011, showing updates and amends © Norman Foster
What I love is how Bloomberg have opened up new spaces to sit and appreciate the City, the out-of-this-world impact of the roof-top view that goes across to St Paul's from the concourse space. This has created the Bloomberg Arcade which is now a key route for people moving around the City, with restaurants and cafes at ground level, set back behind an undulating façade under a covered colonnade. Three public plazas, located at each end of the arcade and in front of the building's entrance, provide new civic spaces in the heart of the Square Mile.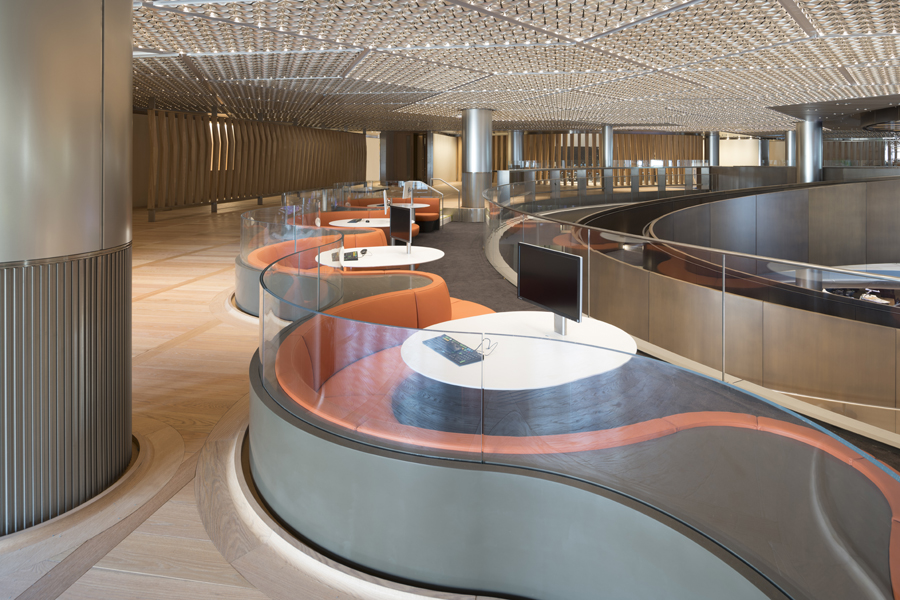 Curved seating and work areas © Nigel Young/ Foster + Partners
Additionally, I love how Bloomberg have made art play in the role of the development, such as Cristina Iglesias' water sculpture in three parts, 'Forgotten Streams. This particular piece of work pays homage to the ancient Walbrook River that used to flow through the site once upon a time. The Bloomberg building also had the archaeological remains of the Roman Temple of Mithras returned to the original site of discovery. It's amazing how these works have been restored; there is now an interpretation centre and cultural hub so visitors can have an immersive experience of the temple, bringing both history and art to life.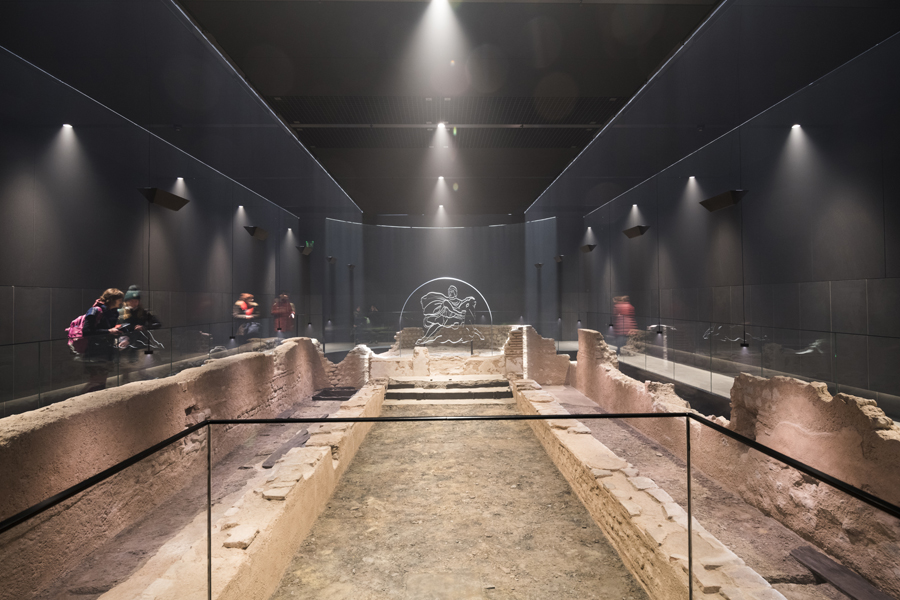 The Roman Temple of Mithras, restored to its original site in the basement of the Bloomberg Building © Nigel Young/ Foster + Partners
...a spiralling ramp at the heart of the building ensures a connected, healthy and creative environment.

Norman Foster, Architect of Bloomberg London