The new Shakespeare North theatre © Austin Smith-Lord
In 2017, when it was announced that there was to be a new theatre in Knowsley, Shakespeare North Playhouse, Dame Judi Dench wrote an open letter, inviting people to invest in the project. Her letter is reprinted here.
"I don't suppose anyone in our country has failed to note that this has been a Shakespeare Anniversary year and that the anniversary of his death four hundred years ago has sent ripples across the world. Why? Because he is the greatest exponent of the English Language and our language, thanks to the internet, has become a world language.
I have been privileged to speak Shakespeare's poetry for most of my life, words that describe courage, hope, grief, sorrow and despair and deepen our understanding of life.
This year I have celebrated Shakespeare's life with the Royal Shakespeare Company and HRH Prince Charles at Stratford…but amid all the celebrations one thing has pleased me above all and that is the permission granted in the Metropolitan Borough of Knowsley on Merseyside for the erection of The Shakespeare North Playhouse.
What a wonderful celebratory gesture it is that we are building a Shakespearean theatre for the North. Shakespeare, as our national poet, belongs to everyone. This is particularly exciting for me as my husband Michael was a Liverpudlian and he and all our family have loved this city and this part of England.
The Shakespeare North project is important to me because I believe that great Shakespearean performances can change lives and because I want to help offer hope, vision and an enhanced educational experience to the children of Knowsley and Liverpool.
I have become a Patron of Shakespeare North and have donated the set of the film Shakespeare in Love to Shakespeare North. As this special year draws to a close and a new one begins, the Trustees of Shakespeare North invite you too to support this wonderful project. I ask you to give whatever you can in the knowledge that 400 years from now the performances you have helped to happen will still be performed in Knowsley. This will be your legacy."
Dame Judi Dench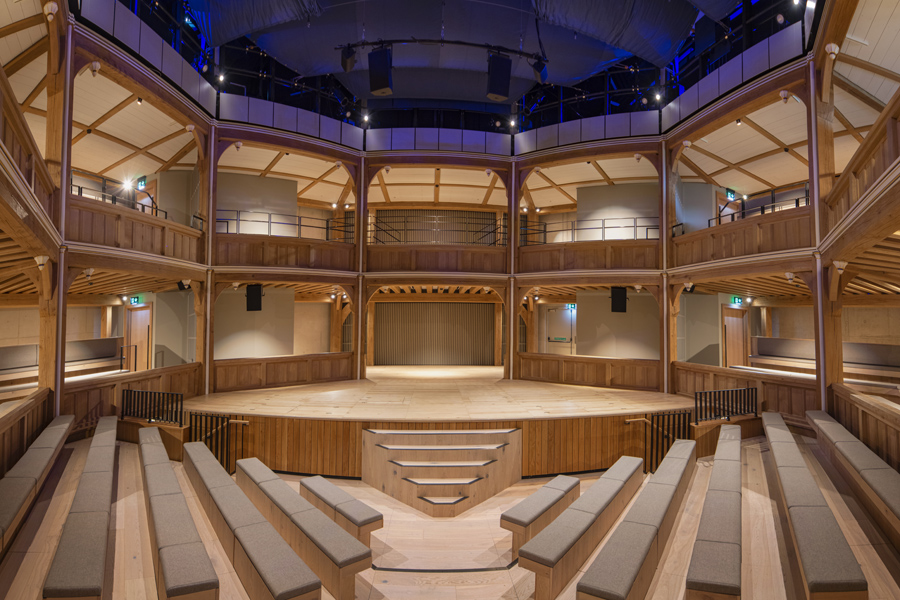 17th century style 'cockpit' theatre at Shakespeare North ©Andrew Brooks
"Shakespeare North Playhouse will be as much about the activities taking place within the learning centre or a secluded corner of the café as it will about what's on our stages. Our ambition is that audiences will travel regionally, nationally and internationally, but it is also crucial that those local to the venue feel that this is their building. We want it to be a hub for local communities.
Our aim is to challenge, surprise and bring joy to audiences with a broad range of programming. Everyone should have the opportunity to experience culture and art on their own terms. We will be bold, brave and inclusive in our approach to all our work. We want to bring voices into the room that wouldn't be there otherwise.
Cultural projects have a transformative nature, and you can already see the direct impact of Shakespeare North Playhouse on the region. The impacts of regeneration and growth are boosted when people are at the heart of the decisions. It is not just about our building, but about creating a place which serves the needs and aspirations of the people, artists and educators who use us.
Inevitably, plans for the project have changed over time due to factors outside of our control, and as our understanding of how the building and organisation will be used have evolved. However, the vision has remained steadfast."
Melanie Lewis, CEO of Shakespeare North.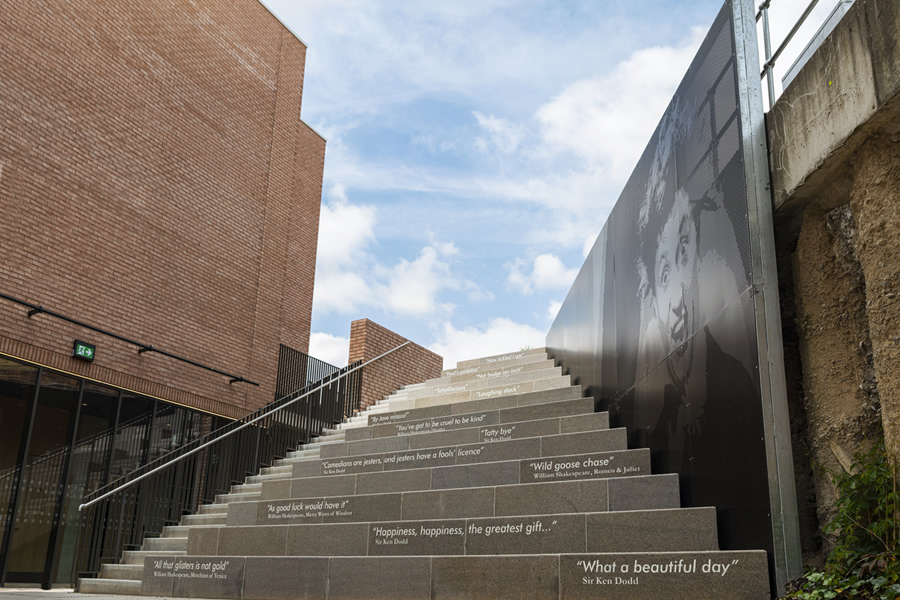 The Sir Ken Dodd performance gardens at Shakespeare North ©Andrew Brooks