Royal Festival Hall
"...a lasting testament to the utopian positivity of The Festival of Britain. The Royal Festival Hall is a proper national treasure."
The Royal Festival Hall on London's South Bank has always fascinated me. At first glance and the first time you attempt to enter it, it's hard to understand – are you entering the front, the back, the side? There seem so many ways to get into the building and whichever way you go in there is nothing to make you feel that you shouldn't be there. When you are in, are you actually in, or on a public terrace? If you are actually inside, on what level? Level 1, feels like the ground floor and level 6 seems like level 4, and then there is a blue side and a green side. HemingwayDesign have been curating exhibitions and putting on large scale events at the RFH for over a decade and I still occasionally feel like I am still exploring the building.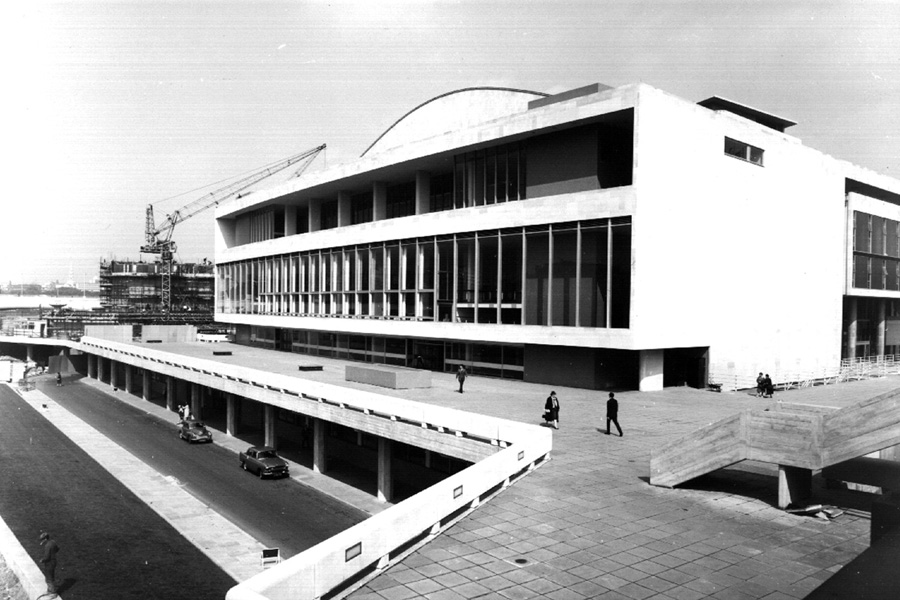 The Royal Festival Hall in the 1950s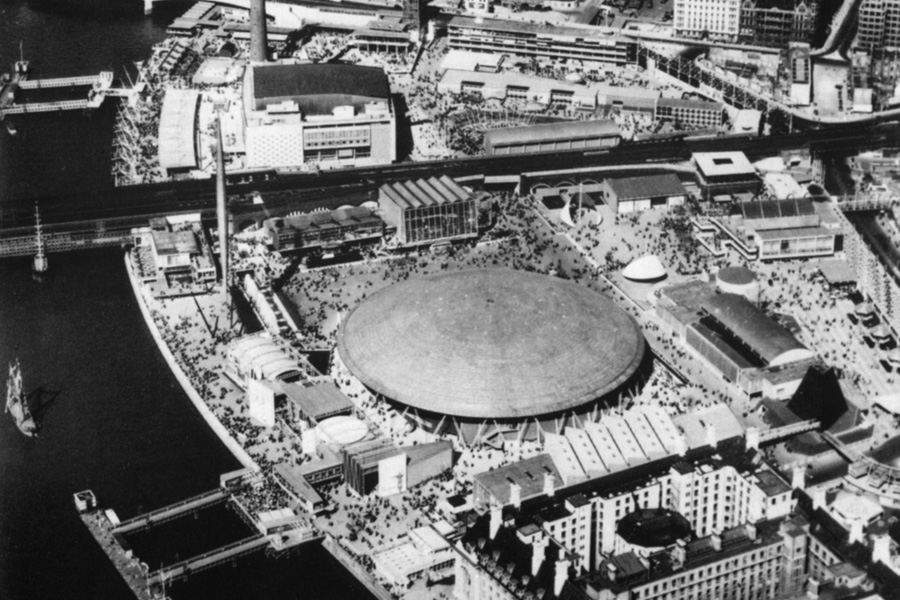 The Festival of Britain, 1951
In 2011 it seemed obvious to us that the building and all its places and spaces could be the ultimate venue to host an event that celebrated the music, fashion and culture of the decades of the 20th century, from the 20s to the 80s. As a teenager one of my favourite clubs was Pips under the Cathedral in central Manchester, where you could move from music-themed rooms to enjoy getting down to rare groove, then have a complete change and pogo to punk and then end the night in the Roxy and Bowie room. I had always wanted to recreate this in an architecturally exciting building and go a stage further with set dress and themed food and drink, encouraging people to dress decade-specific. The Royal Festival Hall provided that opportunity and from prohibition-themed hidden rooms to large scale 40s themed ballrooms, to Studio 54 themed disco rooms overlooking the sparkling lights of the Thames, an event was created that has become London's most visually stunning New Year's Eve party.
Seeing almost 3000 people enjoying exploring perhaps London's most people friendly venue at A Vintage New Year's Eve is something we look forward to every year.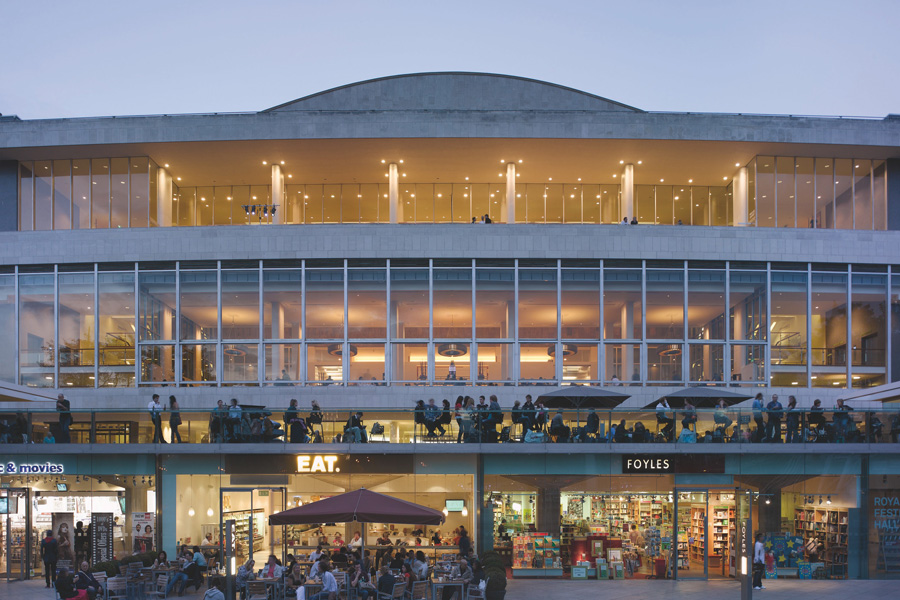 The Royal Festival Hall © Allies & Morrison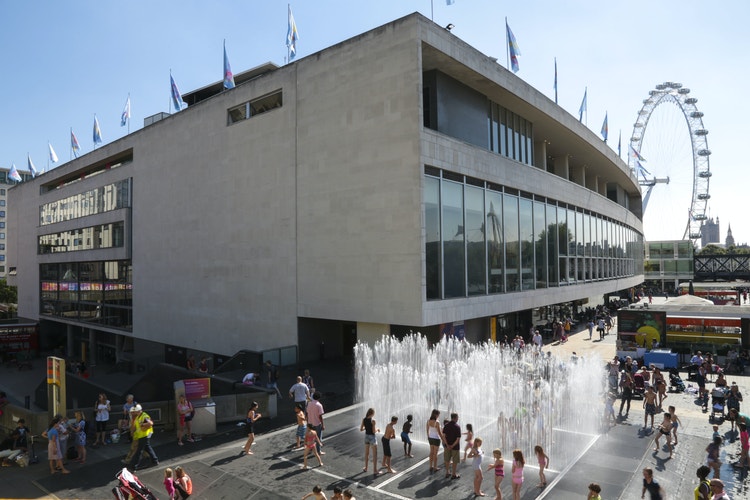 The Royal Festival Hall © Allies & Morrison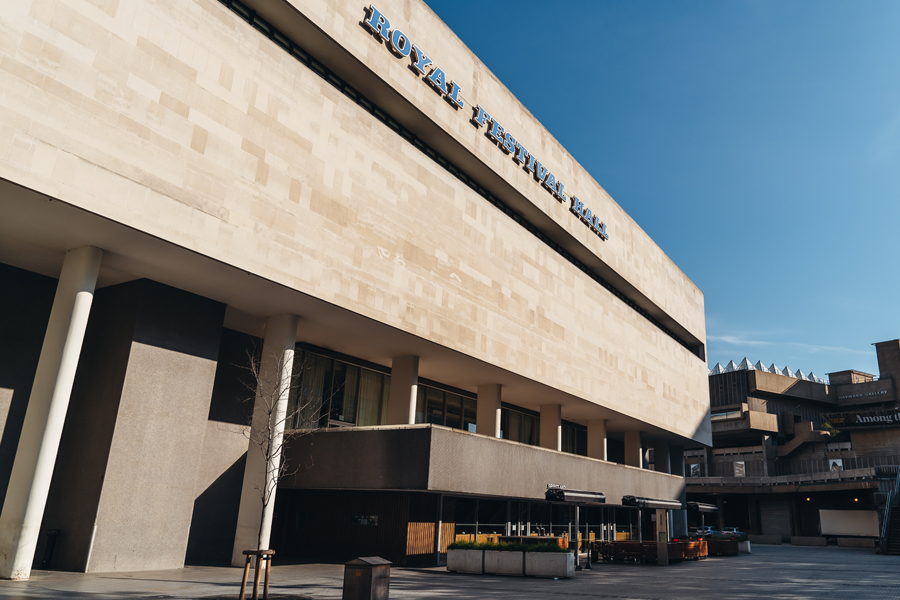 The Royal Festival Hall
But it's not just on NYE that the building lives up to its People's Palace moniker. From the much discussed skater community that made it their home to the hip hop dancers that practice in front of the mirrors on Level 1, to laptop workers who make it their office and make a beeline for the plug points when the building opens at 10am, to the families who bring a packed lunch while the kids slide around on the polished dance floor of the Clore Ballroom, this is a building that comes across as generous and open to everyone, and is a lasting testament to the utopian positivity of The Festival of Britain. The Royal Festival Hall is a proper national treasure.
"I was overwhelmed by a shock of breathless delight at the originality and beauty of the interior. It felt as if I had been instantly transported far into the future."

Bernard Levin