The exterior of RIBA in Portland Place ©Architectural Press Archive/RIBA Collections
66 Portland Place – the purpose-built headquarters of the Royal Institute of British Architects (RIBA) – was a project that had close links with the newly-established Building Centre in the early 1930s. As the Building Centre's founders refurbished the former French Gallery at 158 New Bond Street, bank-rolled by the Gluckstein brothers who owned and managed Bovis, the Institute promoted its Empire-wide open competition for the design of its new headquarters.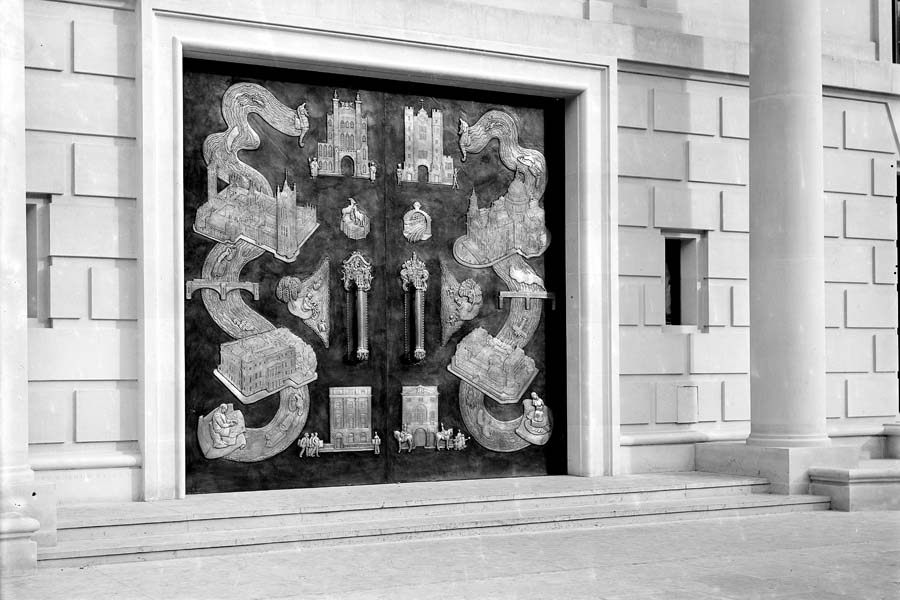 The huge bronze doors of RIBA by sculptor James Woodford depict the River Thames and various notable London buildings. © Architectural Press Archive/RIBA Collections
But the connections were more profound still: the directors of the Centre included not only Grey Wornum, the architect eventually selected for the 66 Portland Place project, but also Robert Atkinson, one of the RIBA's competition assessors, and Maurice Webb, who chaired the New Premises Committee. There were therefore clear links between the two projects: Portland Place used some of the new materials and technologies displayed in the Building Centre's New Bond Street showrooms: Empire Timbers abounded, promoted by the Empire Marketing Board in a specially designed display case at the Centre, and the lighting programme at both buildings was coordinated by the architect Waldo Maitland, consultant to the Electric Lamp Manufacturers' Association's Lighting Service Bureau located on Savoy Hill.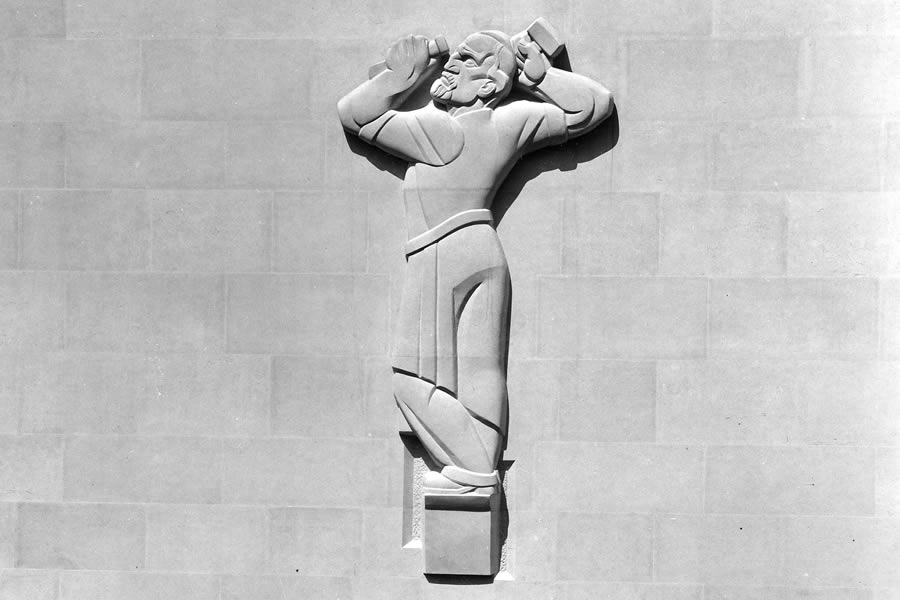 'The Sculptor' by Bainbridge Copnall on the Weymouth Street elevation. © RIBA Collections
66 Portland Place was a project not only by architects for architects, it represented the triumph of a professional ideal, much contested since the 1890s Memorialists debate, but now all but settled through the Architects Registration Act (1931) which gave architects statutory project of title for the first time. Opened to mark the centenary of the Institute's establishment in 1834, it was the last of the great professional palazzi, a typology inaugurated by John Belcher and Arthur Beresford Pite's Institute of Chartered Accountants on Great Swan Alley.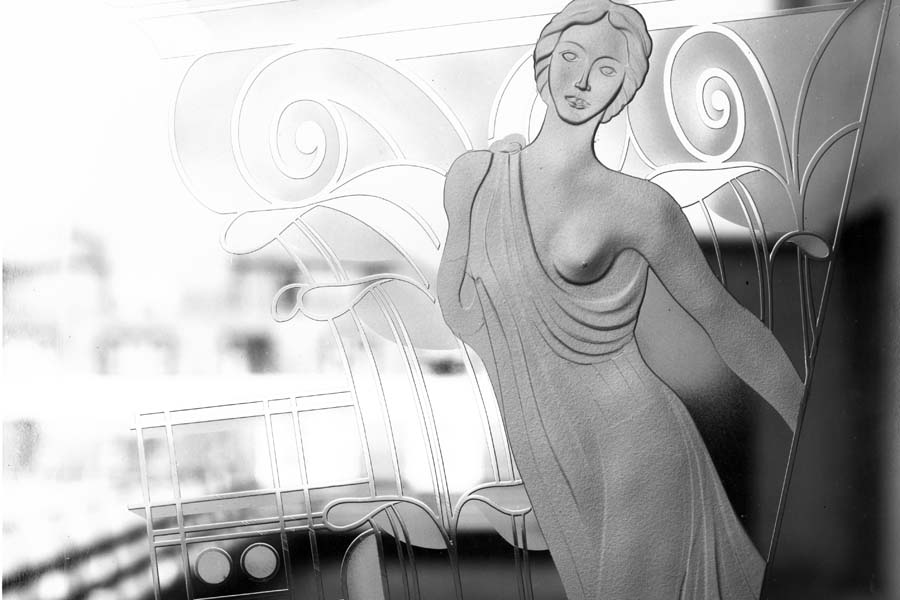 One of the glass panels by Raymond McGrath representing the Roman period as one of the 6 great periods of architecture. © RIBA Collections
An ingeniously packed programme on a corner site, it presented a modernised professional bureaucracy and members' facility: typologically somewhere between a town hall and a gentleman's club. Strongly influenced by the Georgian tradition in contemporary architecture at that time, alongside the 'Swedish Grace' of Asplund and Tengbom and indeed the National Romanticism of Ragnar Ostberg in its decorative programme. The building mixed standardised elements and products, with idiosyncratic hand-crafted ornamentation in stone, bronze and plaster.'