Pitzhanger Manor & Gallery ©Jestico + Whiles
Built beween 1800 and 1804, Pitzhanger Manor in Ealing is a rare example of a house designed and lived in by Sir John Soane himself. It was his country house and, like his London home in Lincoln's Inn Fields, it was an extraordinary showcase of his architectural vision with its bold decorative paint finishes, inventive use of light and space and mirror glass, canopy-domed ceilings and pared-back classical detailing. But it is much less well known.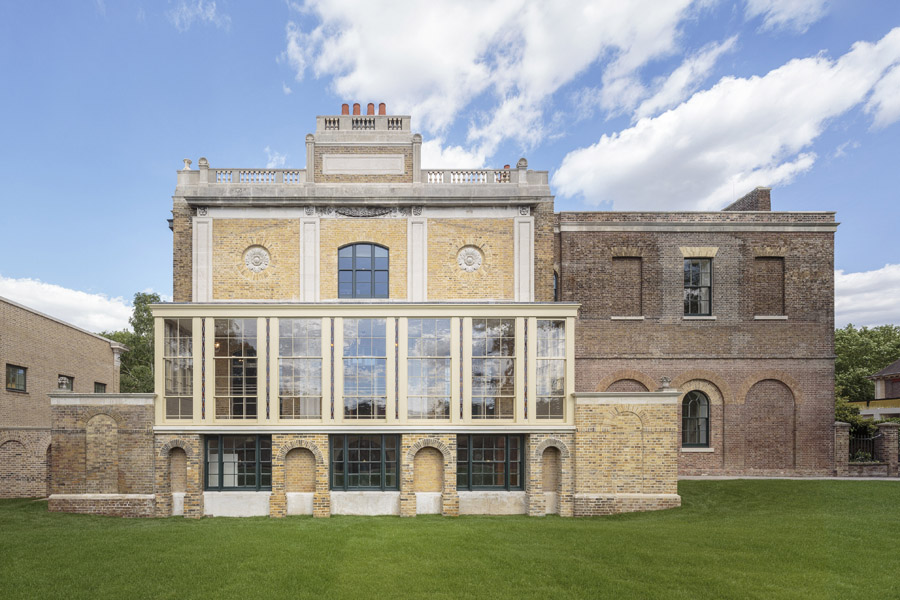 The restored conservatory at Pitzhanger © Jestico + Whiles
There has been a house on the same site since the 17th century and, in fact, Soane, as an apprentice to George Dance, had worked on an extension some years earlier. When he bought the house in 1800, he removed much of the original building, leaving the wing he had worked on. He had hopes of creating a family home for a dynasty of architects, but while the house remains a lasting testimony to Soane's talent and imagination as an architect, the dynasty was not to be. Realising his sons were not up to it, he sold the house in 1810. By 1910, it was owned by Ealing Council. It became Ealing's public library, with a new building – now Pitzhanger Gallery – built on the site of Soane's kitchen block in 1939. This was opened as a heritage attraction in 1987 and has shown contemporary art exhibitions since 1996.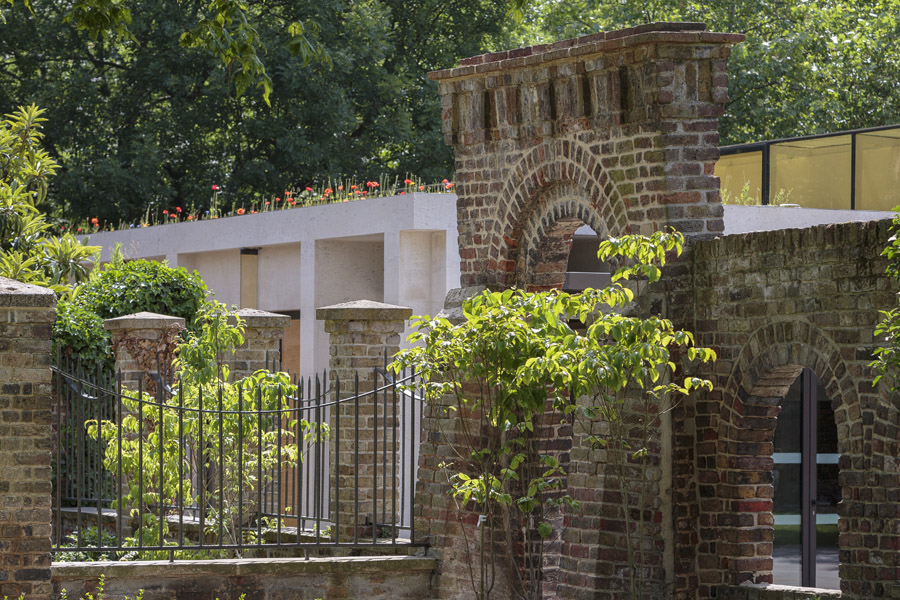 The contemporary cafe constructed within Soane's walled garden at Pitzhanger ©Jestico + Whiles
When it closed in 2015 for conservation, much of the Soane decorative paint scheme had been painted over and his vision altered, added to or even destroyed. The aim of the conservation project, which was to take more than three years, was to restore the house to Soane's original designs and upgrade the gallery for art exhibitions.
The ambitious project, overseen by architectural practice Jestico + Whiles, with help from conservations specialists Julian Harrap Architects, involved major demolition of later Victorian and Edwardian wings, as well as the re-creation of key elements of Soane's original design. This included a conservatory and roof lantern, their design in large part based on the study of Soane's extensive archives and drawings at the Sir John Soane's Museum. Meticulous research was also undertaken by Hare & Humphreys, which was brought in to recreate the decorative schemes.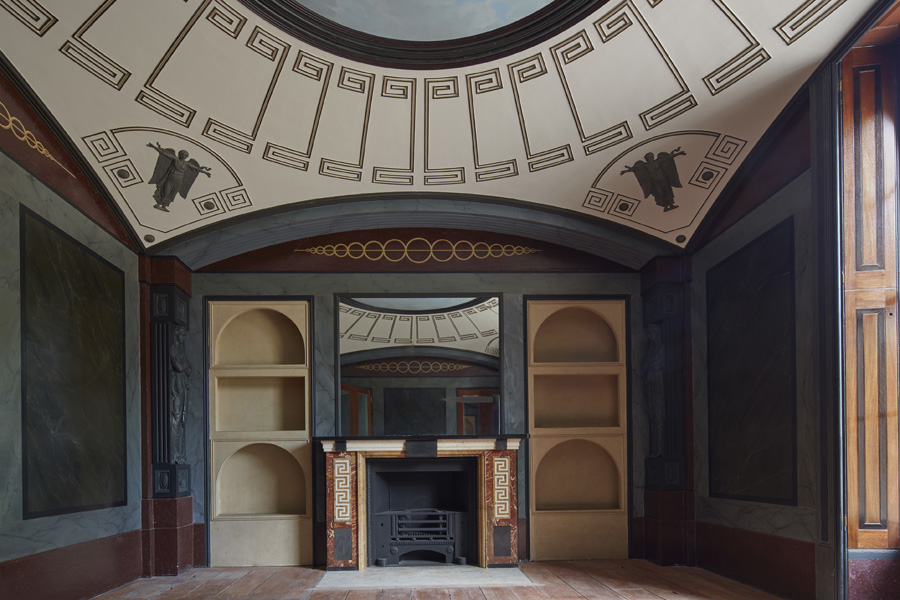 Restored paint schemes at Pitzhanger ©Jestico + Whiles
The result is a triumph. Soane's intensely personal and idiosyncratic vision is revealed once again for us all to see. My first memory of Pitzhanger is visiting as an architectural history student in 2001, when it was a mere shadow of what it is now. Entering the grand tribune hallway for the first time after the conservation project, I was staggered by the intensity and grandeur of what soared above me with its classical detailing, the array of faux marbling and a lantern with amber stained glass casting a magical glow over the whole. It had been entirely white at my last visit, now one is flung headfirst into Soane's mesmerising world.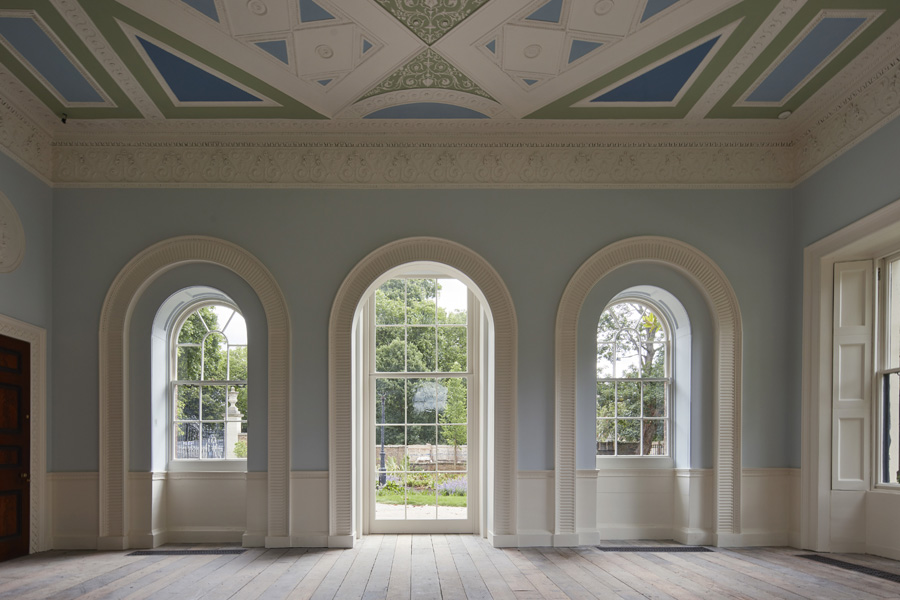 Restored paint schemes at Pitzhanger ©Jestico + Whiles
Walking from room to room is now a thrilling journey: from the vibrant red of the small drawing room, to the vaulted and highly decorated spaces of the breakfast room and library – each with their own distinct character – and out into the newly built conservatory, almost modern looking with its pared back detailing. Upstairs, in Dance's wing, a Chinoiserie wallpaper was handpainted on-site. I've now been many times and each visit reveals something new that I hadn't noticed before. There are also excellent art exhibitions in the glorious light-filled gallery space. Pitzhanger is becoming an important cultural hub for Ealing, but it deserves to be much more widely known. It is a must for anybody interested in architectural history and the decorative arts.