Peace Gardens, a haven of tranquility in the middle of the city. © Robert Jones
I can't exactly recall the first time I became aware of the Peace Gardens. What it's become known to me for is a perfect place to leave the city.
It's one of those spaces you can walk past a hundred times before you realise it's there and what it is.
It has changed a lot over the years.
The small church clock tower is highly visible but as a child I'd wonder how it would be able to hold services if only a few people could fit inside.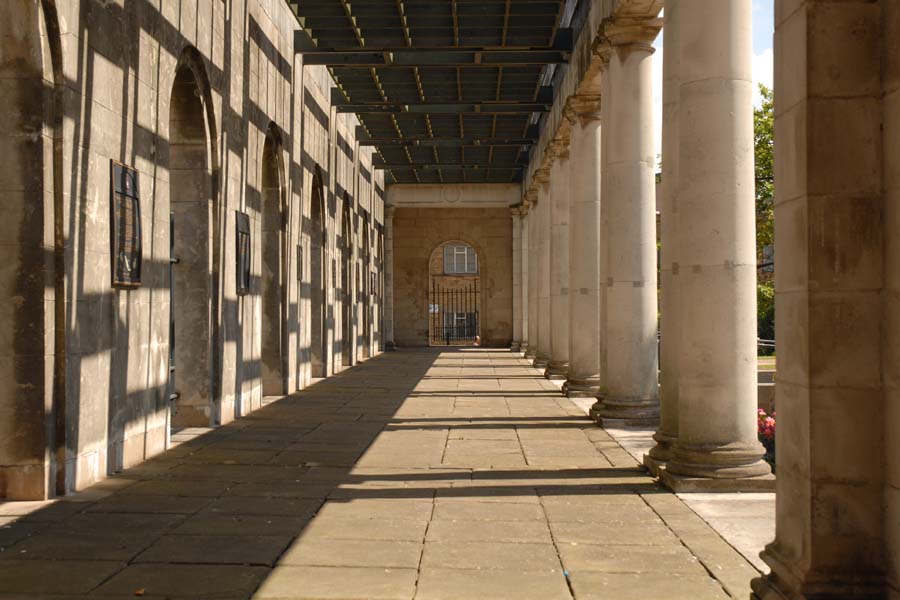 The First World War Memorial colonnade ws relocated here in 1989 © Johnny Blockhead
The book of John tells us that 'there are many mansions in my Father's house'.
I'd imagine having to enter at an angle that would enable everyone to be inside in another dimension of the church.
What I didn't find out till many years later was that the main part of the church was destroyed during World War II. It wasn't multi- dimensional energies that had enveloped the rest of the building but Hitler's bombs. Birmingham and many other parts of the Midlands were the main manufacturers of vehicles and munitions in the UK till the service-industry take over of the 2000s.
The mini-church became The Gardens, sometime in the early 90s. Well arranged, super bright flower beds made everyone begin to notice this quiet little area. All types come here.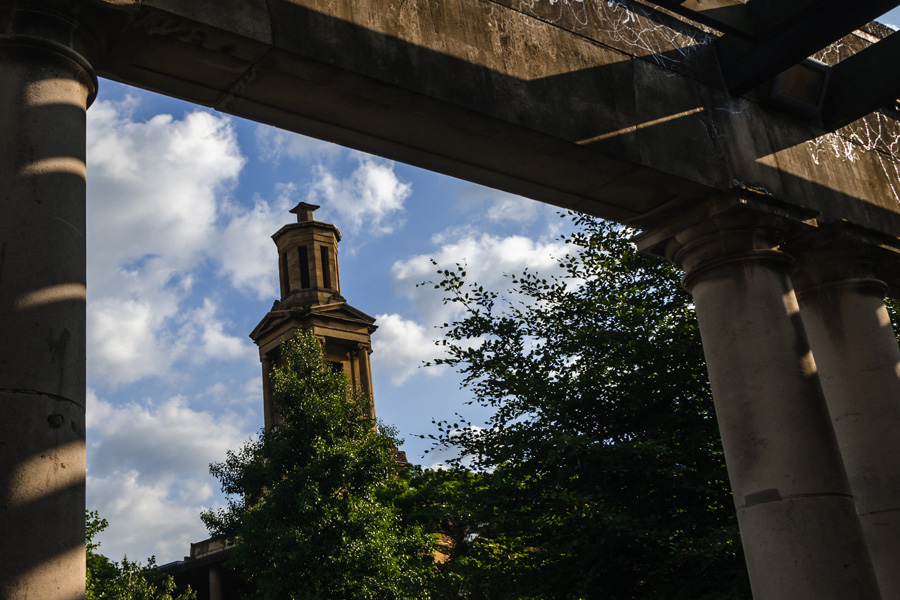 Another view of the gardens © Graham
In different lifetimes these Gardens have been a skate-park for the early 20s me, a place to get a bit of space for and from my partner when I lived in the Lee Bank area, and a cool late night smoke orchid.
Lee Bank was an area situated right next to Birmingham City centre.
The flats I used to live in, and Lee Bank itself, don't officially exist anymore. Through a series ofdifferent regenerations and gentrifications the Lee Bank estates are now known as Park Central.
The working class families have become middle class yummy Mummys and the children of foreign diplomats who come to Brum to study.
Though the flats have been pulled down and the area intentionally changed, the Peace Gardens can still be a place for street hustlers, drinkers and the homeless to congregate. To this end the open corridors that would at times allow a rough sleeper to get some shelter have been sealed off.
No skating and no sleeping.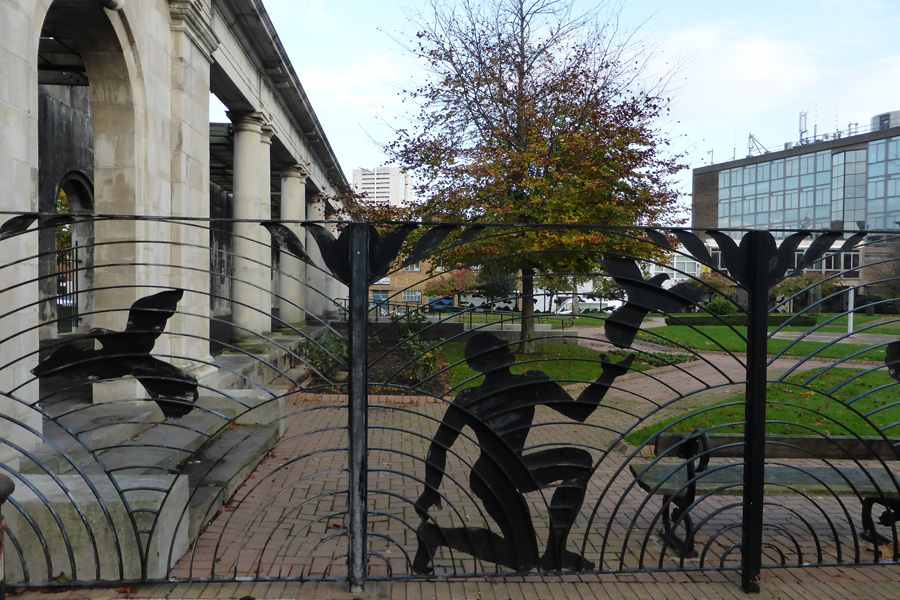 Railings with doves of peace were sculpted and erected by Anuradha Patel. © Metrogogo
Meals are regularly served to those in need just outside of the park section of the Gardens. The Garden's themselves are less than a five minute walk to The Mailbox, an exclusive shopping mall and business hub.
The St Thomas' Peace Garden, as it's properly known, was created to commemorate all thosewho have fallen in war and as a monument to peace itself.
It's always well kept and it's leafy greenness can allow you to almost forget the busy road out front as well as all of your troubles. There have been many a time I've just sat there until being able to collect my thoughts.
With a few sections of the Gardens being cordoned off it's not as easy to read all of the livication placards but the park is still open every day to the world with it's calming energies.
I no longer pretend I can skate and rarely drink or smoke in public parks anymore but these Peace Gardens are still a place I come to sit, read or just daydream and I love it for that. There is no exercise that has to be done here other than internally.
I will that all the rough sleepers, the drinkers, the students and the yummy mummys get the peace they come to the gardens for and any passing person gets to feel that calming ease taking them to service in another dimension.