The striped pink and brown sandstone exterior of 1 Poultry © diamond geezer
One of the key moments in my book on the architecture and 'afterlife' of the great English Baroque architect, Nicholas Hawksmoor (1662–1736), comes towards the end, when the story reaches the 1950s and 1960s. These decades saw the first scholarly attention paid to Hawksmoor, who up until then was still seen as a second-rate talent. At the same time, though in a way quite independently, Hawksmoor was discovered by the generation of architects then just coming of age: those who had been trained in the Modernist tradition, but felt increasingly constrained by its strictures. In Hawksmoor's enigmatic creations they saw a free creative spirit which revelled in the material qualities of stone, the expressive possibilities of geometry, and the capacity of architecture to work on an emotional as well as functional level.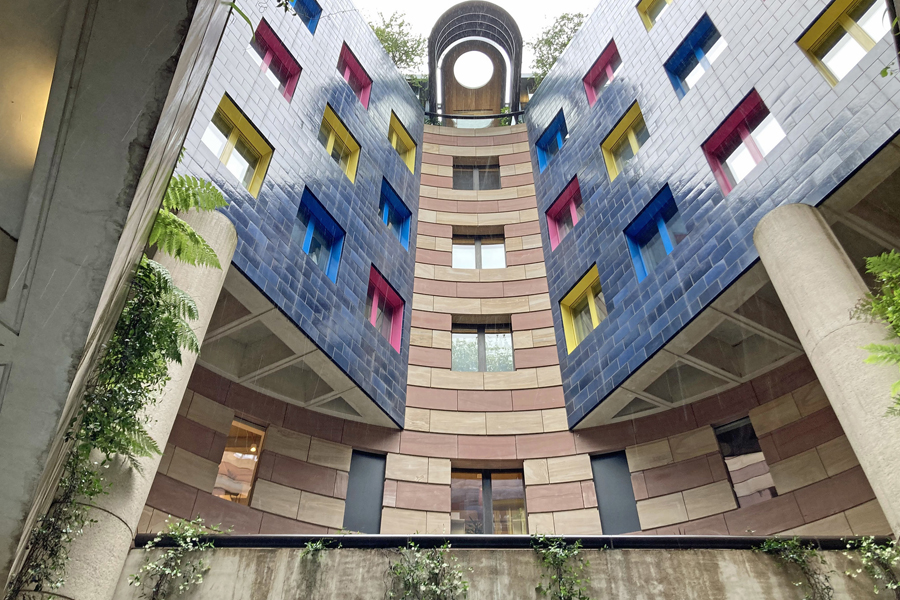 The atrium of 1 Poultry © james stringer
Despite this profound interest, it is hard to think of any building from that period that could be described as definitively 'inspired by' Hawksmoor. It took a few more decades for a building with the requisite geometrical force and weight of allusion to appear. But when it did, in the form of James Stirling's final masterpiece, 1 Poultry, there would be no mistaking its decidedly Hawksmoorian power and vigour.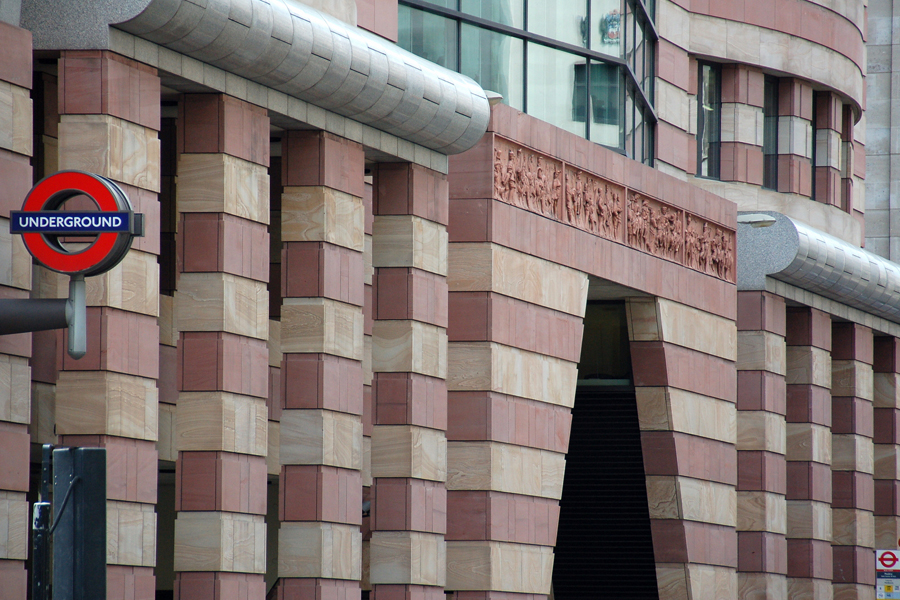 Part of the 1875 terracotta panels resited at 1 Poultry.
In some ways this is no surprise. Stirling was a great Hawksmoor aficionado throughout his career and it surely would not have escaped Stirling's attention when taking on the commission for 1 Poultry that the site looking over the Bank interchange lies not quite opposite Hawksmoor's St Mary Woolnoth, his only church in the City of London.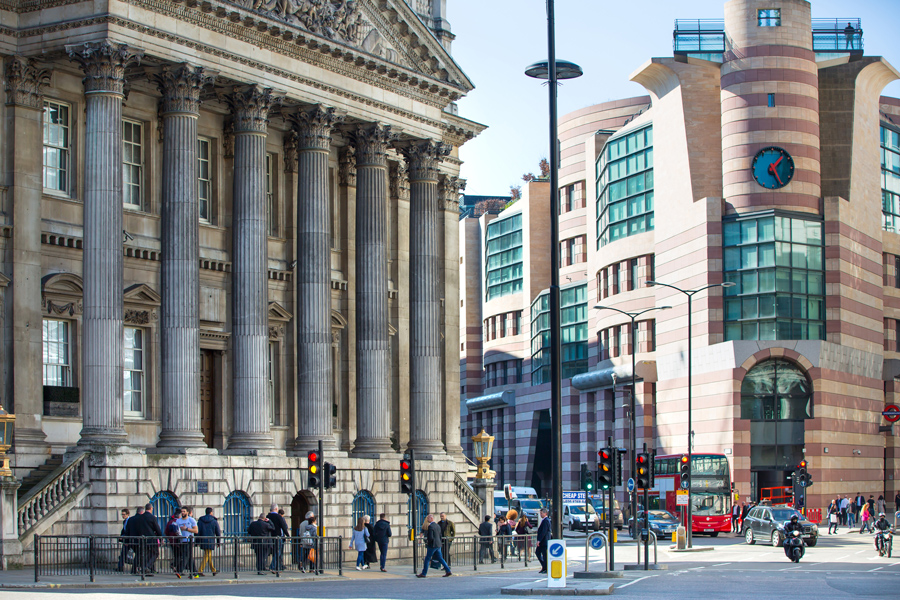 1 Poultry at the busy intersection in EC2.
The story of the site of 1 Poultry is a complex one. In the early 1960s the developer, Peter Palumbo, commissioned a design from no less a figure than Mies van der Rohe. Mies's scheme was for a Seagram Building-like tower, with a public piazza in front. Planning permission was granted in 1969, but construction would have to wait until the early 1980s when the leases on the required plots would expire. But during the intervening period the architectural climate in Britain would change radically. As Palumbo tried to move his plans forward, he was met with a passionate campaign to save the Victorian Mappin and Webb building that occupied the site. The following year the Mies scheme was finally thrown out. Faced with this hostility, some developers might have simply sold the site and walked away. However, Palumbo was undaunted and turned to Stirling. 1 Poultry belongs to the phase of Stirling's career which is often related to Post-modernism, though he himself rejected the label.