32 Newton Road on the left, in an image from the early 1940s ©RIBApix
Denys cared about town planning and how his work (though modern - he hated being called a Brutalist) would sit in the environment surrounding it.
As the daughter of an architect, the great granddaughter of a celebrated architect and the goddaughter of Denys Lasdun, I grew up with buildings and architecture being a constant topic of conversation all around me.
In fact, the idea of a fun evening in our family was to pile into our old Citroen Dyane to drive through London pointing out buildings of interest. We mainly started following the river with each London bridge being a point of discussion.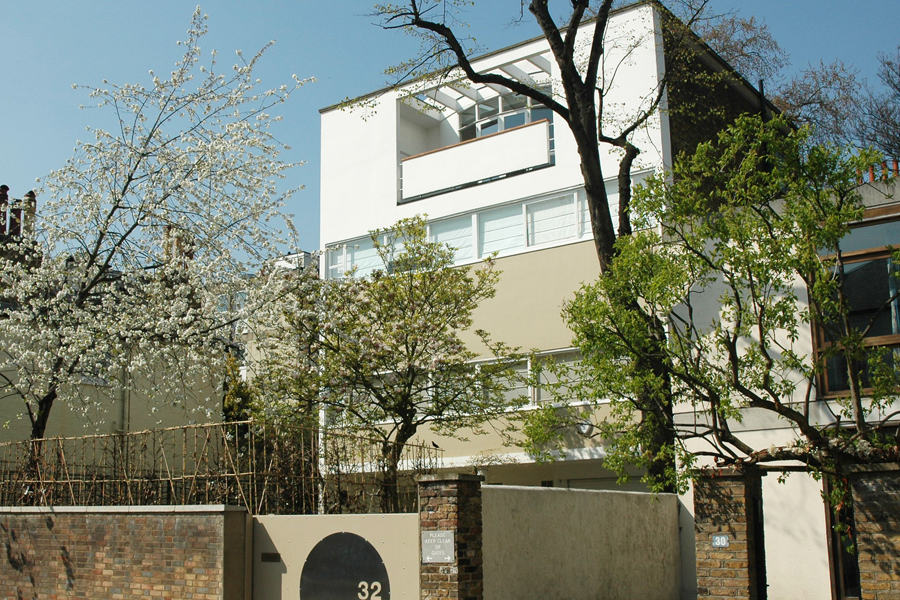 32 Newton Road in a recent image
On the towpath, my father would tell us about the bollard marking the site where convicts left for Australia, or the colour Westminster Bridge had recently been painted to match its history. We'd look at the classic sweep of John Nash's terraces in Regents Park, the John Soane Museum, Cleopatra's Needle and then drive over to see various post war projects like the Brunswick Centre in Bloomsbury, Basil Spence's Knightsbridge barracks or the Alton Estate in Roehampton, not to mention some of Denys's projects built and ongoing. We discussed architraves and cornices, porticos and recesses, pediments and stucco, skirting boards, ceiling roses and dado rails not to mention architects past and present and their styles. You name it, we were shown it and not always happily when as moody teenagers we would rather have been doing other things. ("No I don't know why or how but I know you're going to tell me"… )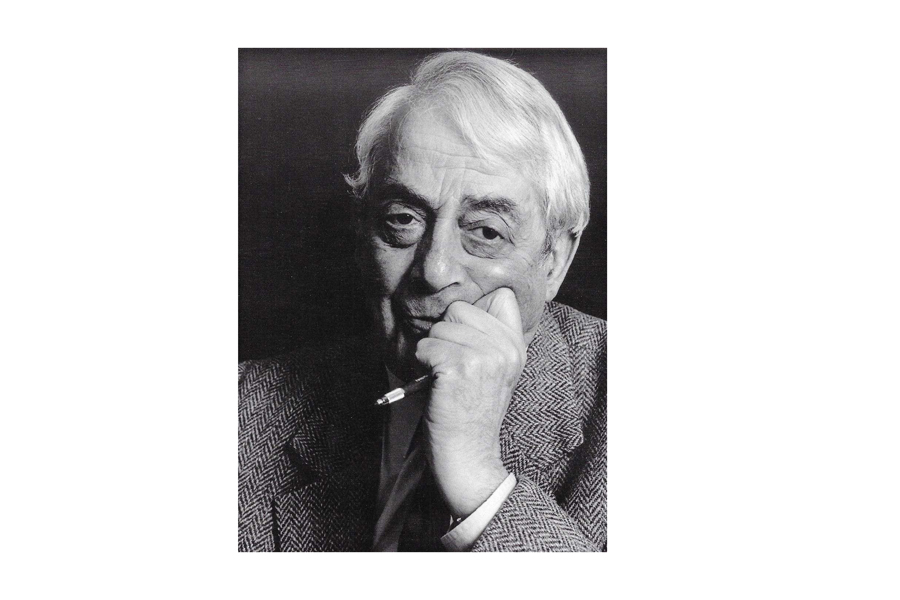 Sir Denys Lasdun, in a portrait given to Kathy by his widow, Susan Lasdun
Indeed, I suppose I was born to this. My mother had me, not in hospital, but at home in Number 32 Newton Road, Paddington. This was Denys Lasdun's first modern house built in 1938 when he was only 26. It wasn't built for us but for an artist who demanded a studio space, on the top floor, hence its height in comparison to the classic Victorian terraced homes it stood next to. Indeed, it was designed to be semi- detached to whatever came next, but it was carefully set back to make it less obtrusive and to preserve some old trees in the front. The trees were also kept to "soothe" the effect of this alien introduction to the street. Denys cared about town planning and how his work (though modern – he hated being called a Brutalist) would sit in the environment surrounding it.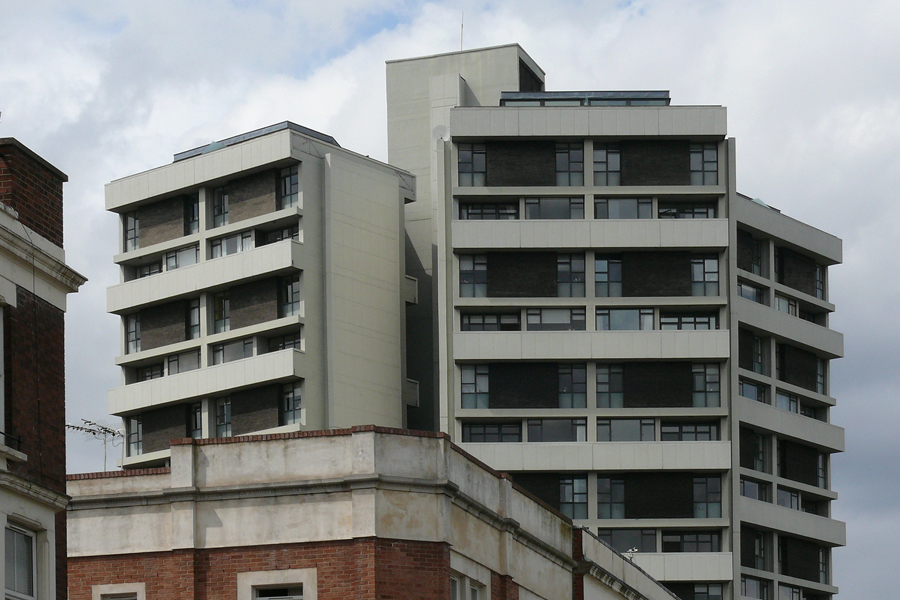 Keeling House designed by Sir Denys Lasdun as social housing, Grade II* listed in 1993
My father, born in Australia, had a lot in common with Denys and they shared friends like the great environmentalist, Henry Morris. Both had grandfathers who were Australian. Ours, Nahum Barnett, was building in Melbourne and Sydney as far back as the 1880s and Denys's maternal grandfather was an Australian landscape painter. Though we regularly saw Denys and his family, we didn't stay in Newton Road for long as my father had always wanted to live in the country. I was still only a baby when we left but can just remember crawling down a terracotta tiled staircase and into the garden. I was back in London not long after and regularly sought Deny's advice on all things design.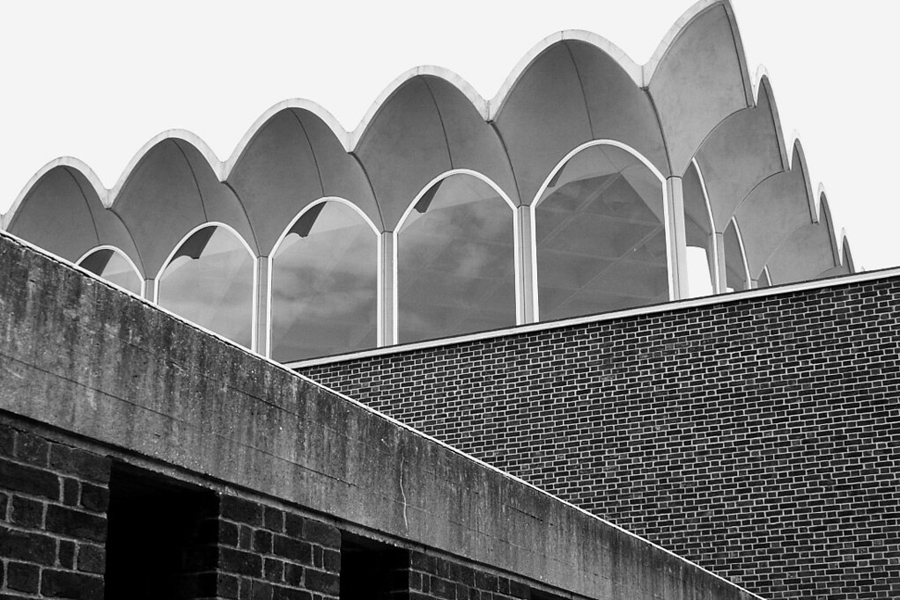 Fitzwilliam College in Cambridge, Sir Denys Lasdun's first university building
I'm sure his influence has led to my love of modern buildings and interiors, certainly when I was lucky enough to buy my own first house, it was Denys who I turned to, to give it the OK. I went back to look at Newton Road recently and what I love best about it is that it still looks exciting, contemporary and forward looking almost a hundred years later. Quite some legacy.