A few decades ago when I worked as a graduate civil engineer for consultant Sir Owen Williams and Partners, I shared the corner of the open plan design office with a wise and experienced structural engineer – presumably in the hope that some on his wisdom would rub off.
So it was that, as I busied myself with calculation sheets, drawing details and vast blocks of computer paper output from finite element analysis, he would remark: "We used to do all that on a single sheet of A0 you know!".
Such is progress, I suppose. He was, of course, part of the team that, amongst other projects, designed and oversaw construction of the first M1 motorway section, which opened in November 1959 and revolutionised UK transport. While it was not the first actual motorway – the Preston Bypass, now part of the M6, claimed that honour the year before – it was the UK's first dual three lane carriageway inter-urban motorway linking London to Birmingham.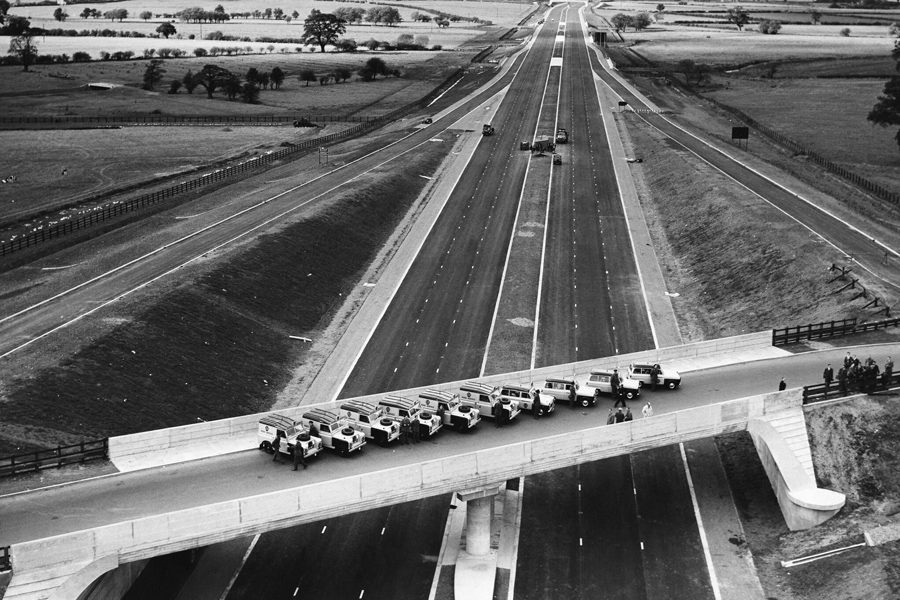 The M1 motorway shortly before it opened in 1959.
It was a remarkable feat of high-speed, low-cost planning, design and construction. This 80km stretch between what is now junction 5 and junction 18, still remains the largest piece of new motorway added to the network in one go and was achieved in less than ten years after Clement Attlee's Labour-led Parliament passed the Special Roads Act 1949 to allow motorway construction and underpin revival of the UK's troubled post-war economy.
Remarkable also in that at the time, austerity was the political watch word of the day. In fact, shortages of public cash almost killed the UK's motorway ambition as Labour lost its snap General Election. But following political pressure, the new Conservative administration pressed forward with the scheme in 1951 – with cost control and efficiency clearly high on the priority list.
In that year consultant Owen Williams and Partners, led by visionary architect/engineer Sir Owen Williams, was commissioned to plan and design this transportation milestone. Based out of an office at Welton Station, north of Daventry in Northamptonshire and with structural design carried out in the London office, the team set about creating not only a beautiful piece of infrastructure but one that could use repetition and modular design and construction to boost cost efficiency.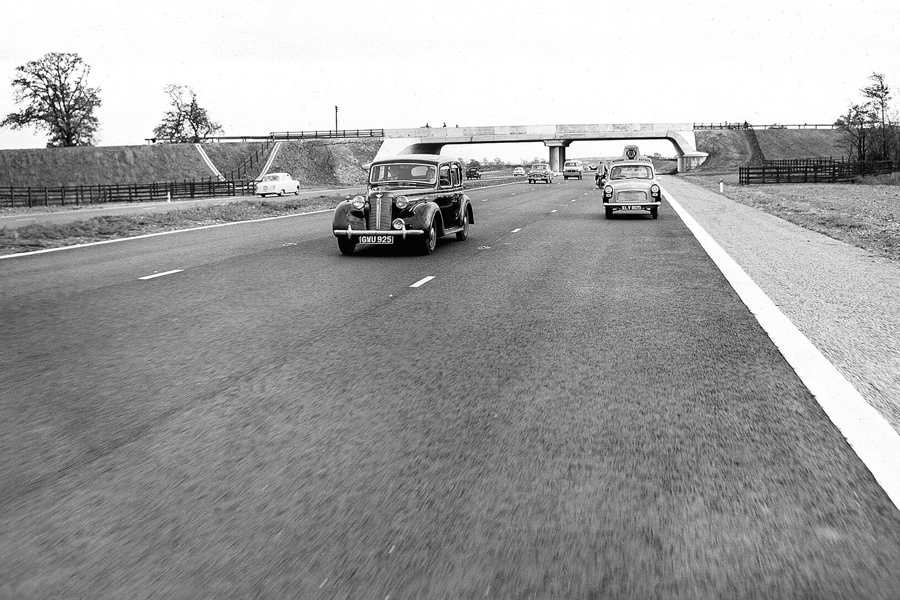 The day the motorway opened.
Go ahead for the M1 project had to wait until 1955, at which point detailed design could start on the carriageway and on the many structures needed over and under the route. These including the architecturally inspired sculpted concrete bridges that, although many no longer exist due to subsequent widening work, are so well known to many drivers.
Innovation was at the heart of this design process. The carriageway was originally conceived as dual two lane but widened late in the day just as construction started in 1958 to become dual three lane. It was built using a radical new approach with a 355mm thick dry lean concrete base laid on an earth sub-base and then overlaid by two layers of asphalt as the running surface.
Sir Owen Williams and Partners also had to innovate to meet the constraints of designing and incredible 131 bridges and 92 culverts in such a short space of time. This challenge saw the team pushed boundaries by combining Sir Owen unique architectural style with highly standardised designs in which each bridge could be designed from the same basic design blueprint, skewing or stretching components to fit the geometry of each location.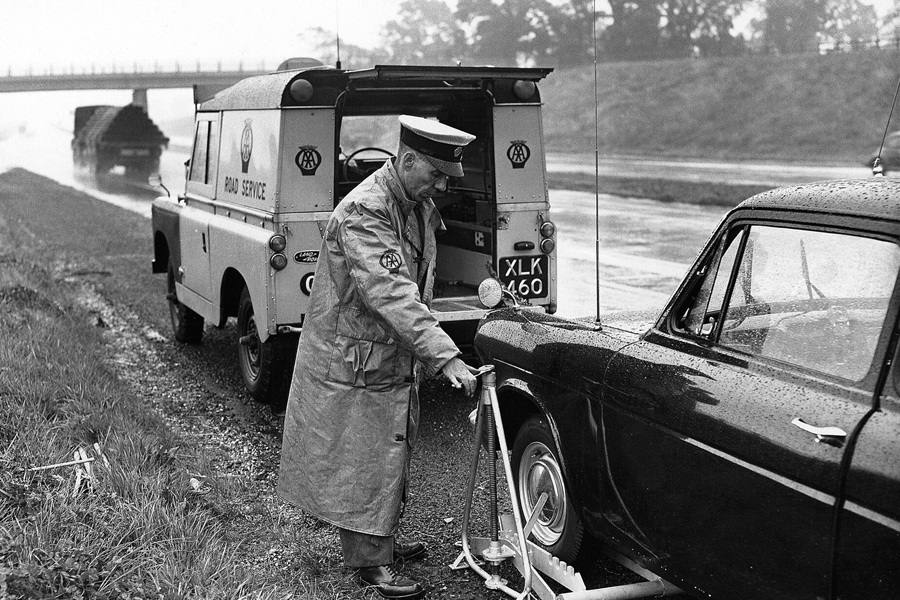 The AA, ready to help out in the case of a breakdown.
This first M1 motorway section was built in two parts taking just 20 months from construction inauguration on 24 March 1958 to opening on 2 November 1959 – extraordinary speed by modern standards. The northern section from junction 10-18 built by John Laing and the southern section from junction 5 to 10 around St Albans built by Tarmac Construction.
For all the effort over the intervening decades to boost industry productivity, reduce cost and accelerate the efficiency of infrastructure project delivery since the M1 blazed a trail, the point my former colleague made was spot on – we do seem to be moving in the wrong direction when it comes to the efficiency of project delivery.
The M1's design and construction set the standard with its attention to both architectural beauty and use of modular design techniques and new materials to control costs and accelerate production.
And as the UK pushes forward with infrastructure investment to drive the post Brexit economy and level up the UK socially and economically, the M1 certainly provides lessons that modern planners, designers and constructors can learn from.