The Tony Clegg bronze sculpture in the courtyard of the Ham Yard hotel © Simon Brown photography for Firmdale Hotels
"A hotel's design is a living thing, in a way. And with interiors, it's transitory and subject to passion."

Kit Kemp
Storytelling is at the heart of everything I do, how I dress, how I design, how I think when I'm working with a craftsman or configuring new spaces.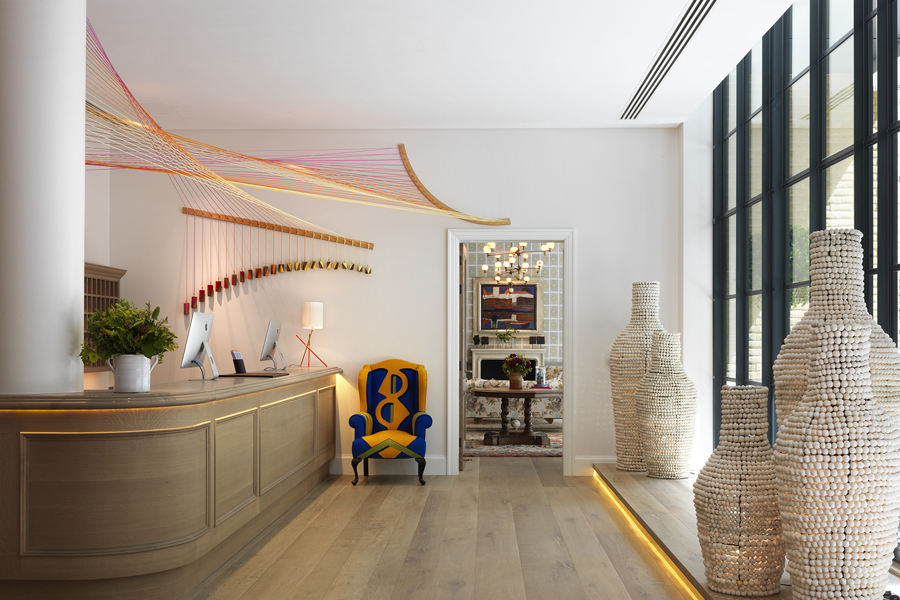 The loom installation in the lobby at Ham Yard. © Simon Brown photography for Firmdale Hotels
Whenever I walk into a room I go straight to the windows and look out. Building is a messy business and by the time workmen have finished a garden or outside space can be decimated. The first thing we did after buying the site of Ham Yard and Denman Place development was to purchase five 30ft oak trees to add immediate greenery to this previously neglected part of Soho.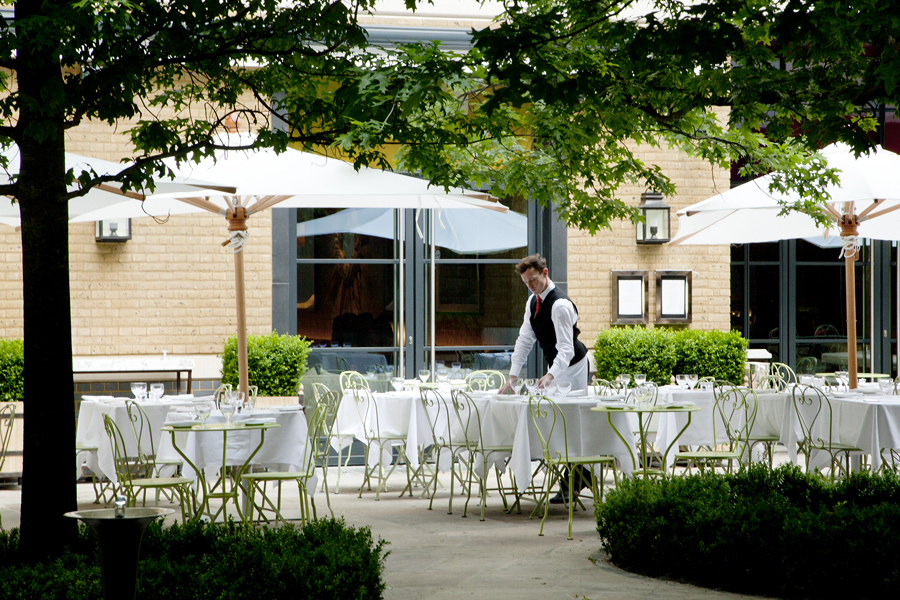 The fourth floor garden terrace thrives with a mix of wild flowers, bees, birds, a herb and kitchen garden and an old French fountain. The sections are partitioned by wooden sleepers.
The loom is my ultimate inspiration and the starting point for a lot of my work. After much searching we found an ex Chelsea College of Art graduate Hermione Skye O'Hea to make the loom installation that we teamed with a Conrad Shawcross artwork and hung above the reception desk at the hotel.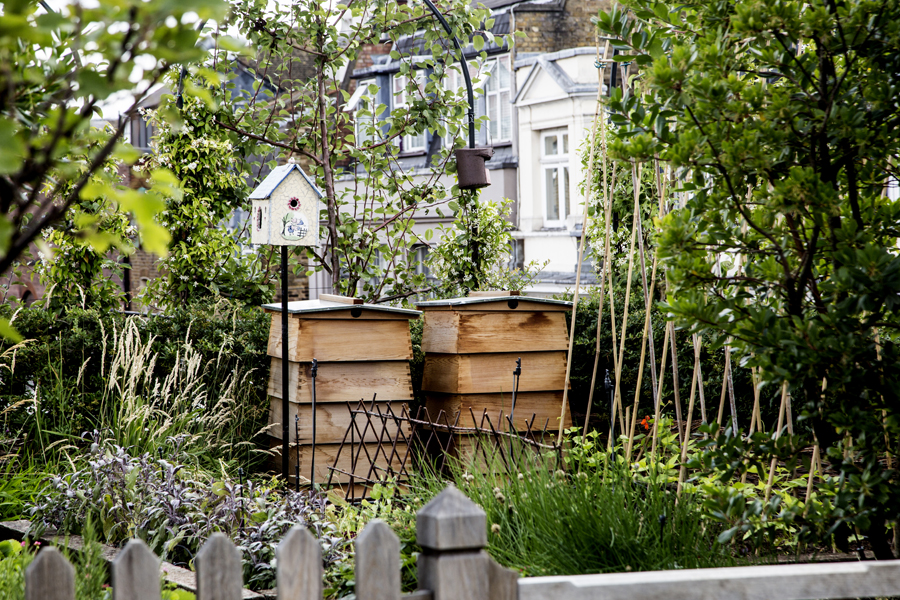 Beehives on the Ham Yard roof terrace ©Simon Brown photography for Firmdale Hotels
I love to work with artisans and finding new people is so exciting, and the great thing is that age is utterly irrelevant. I like to break rules. I believe that every room should hold surprises that delight both the eye and the mind. I like mixing up periods, finding colours that work together, exploring new ideas, taking things that on their own are ordinary, but by mixing them up with something else come in to their own.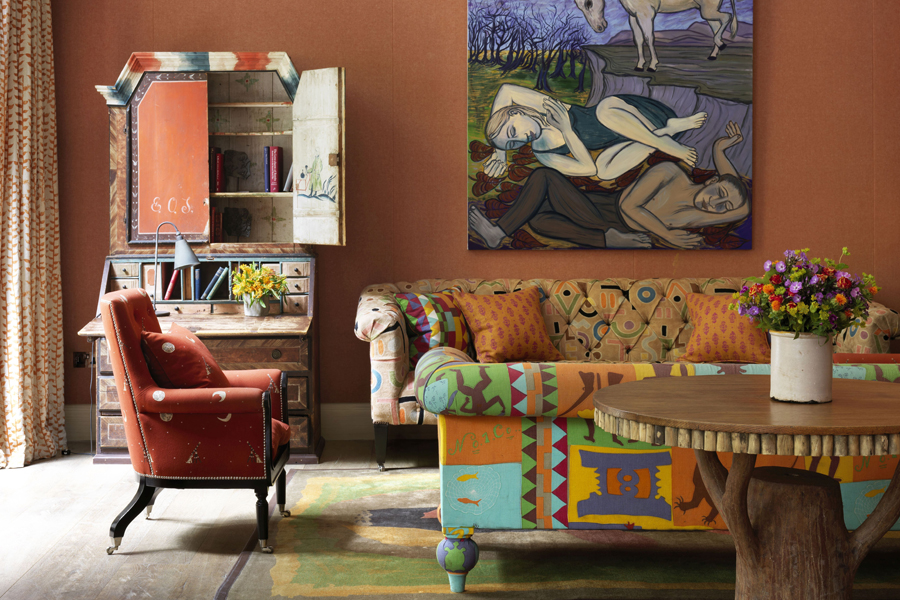 The drawing room at Ham Yard © Simon Brown photography for Firmdale Hotels
We wanted to make a feature of the courtyard so we commissioned Tony Cragg to create a contemporary bronze sculpture which stands around 12 foot tall – a stunning and complex piece that reflects the changing light and enhances the outside terrace.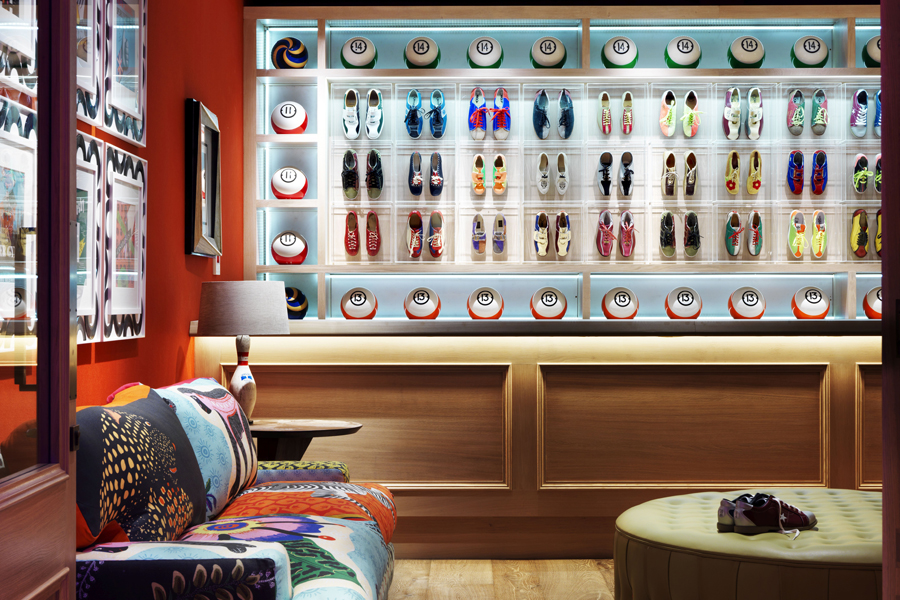 The Croc bowling alley © Simon Brown photography for Firmdale Hotels
Ham Yard and the Denman Place development gave me the opportunity to start from scratch, and create not only a hotel but an urban village complete with residential apartments, a subterranean car park, independent retail shops and an airy restaurant and bar with outdoor dining and drinking. We created a building that fitted in with my philosophy of sustainability and at the same time delighted both the eye and the mind. A green space in the heart of Soho.