Guru Maneyo Granth Gurdwara
As a Sikh and a passionate advocate for equality, the Guru Maneyo Granth Gurdwara in Slough is a building very close to my heart. Whilst I could've chosen from any number of beautiful and brilliant structures from the last ninety years, the reason I've chosen this one is because of its incredible transformation from a humble Citroën showroom to a spiritual sanctuary to the world.
The showroom was acquired and entirely transformed by a team of 300 hardworking volunteers before it was opened to the Sangat (congregation) in 2015. It's also the largest Gurdwara in the country to be run by volunteers for the Sangat. Whilst there are a growing number of purpose-built Gurdwara's in the UK, the building's second life is a powerful leveller. It's not fancy, it's functional – as you walk through its doors, it reminds you we're all equal.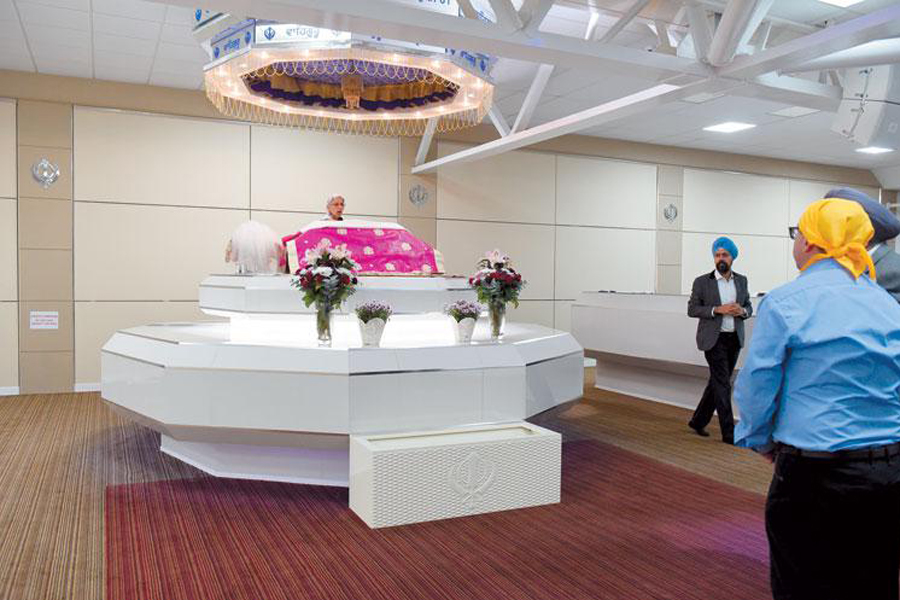 Inside Guru Maneyo Granth Gurdwara
The GMGG is not solely a place of worship, it's a warm, inclusive environment that brings people from all walks of life together. Everyone is welcome to sit, to eat…it's a sanctuary for whose seeking peace, trying to conquer anxiety and depression, as well as those who are looking for spiritual guidance. They offer free courses in carpentry, plumbing and bricklaying by qualified tutors, Punjabi lessons for adults and children, as well as sports classes and there's a 7000 ft permanent Sikh Art Gallery with Sikh Canadian artist Kanwar Singh supported by Arts Council England. As well as this, the Gurdwara plays an active role in the community, working with schools to offer support to victims of child abuse. There's also a food support programme first set up in lockdown which provided more than a million meals and 450 tonnes of food to 150 charities in 90 days. Most importantly, it's also a place of shelter for those with nowhere else to go.
I'm thankful the Gurdwara is local to me and I'm able to go there to meditate in the morning twice a week. Sikh is a way of life and the Guru Maneyo Granth Gurdwara is a wonderful, very real expression of my religion. In a fast-paced, complex world, the building has helped me to grow and heal emotionally – as a woman and as a leader – and overcome the challenges in my life whilst learning from them too.
I look forward to seeing it continue to shape the lives of generations to come.