H.M the Queen and Basil Spence viewing a model of Coventry Cathedral. © Historic England /John Laing Photographic Collection.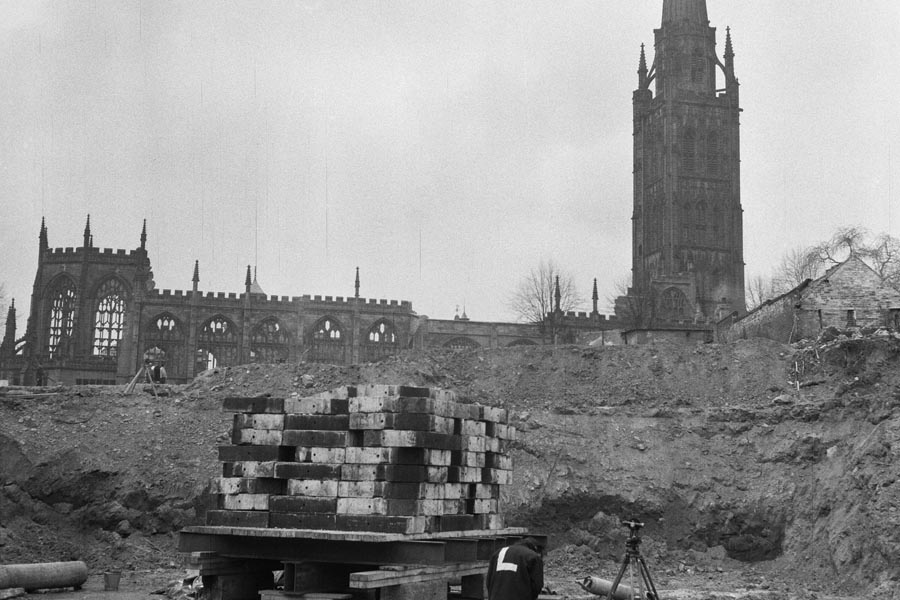 The ruins of the Cathedral. © Historic England /John Laing Photographic Collection.
Coventry's was the one cathedral damaged beyond repair in the war, and its rebuilding was a symbol of Britain's post-war regeneration. After winning a competition in 1951, Basil Spence led the fund-raising campaign and became a household name as well as earning a knighthood. His design was Arts and Crafts in spirit but innovative in retaining the old cathedral ruins and linking them with a giant porch and a clear-glazed 'west window' to the new church.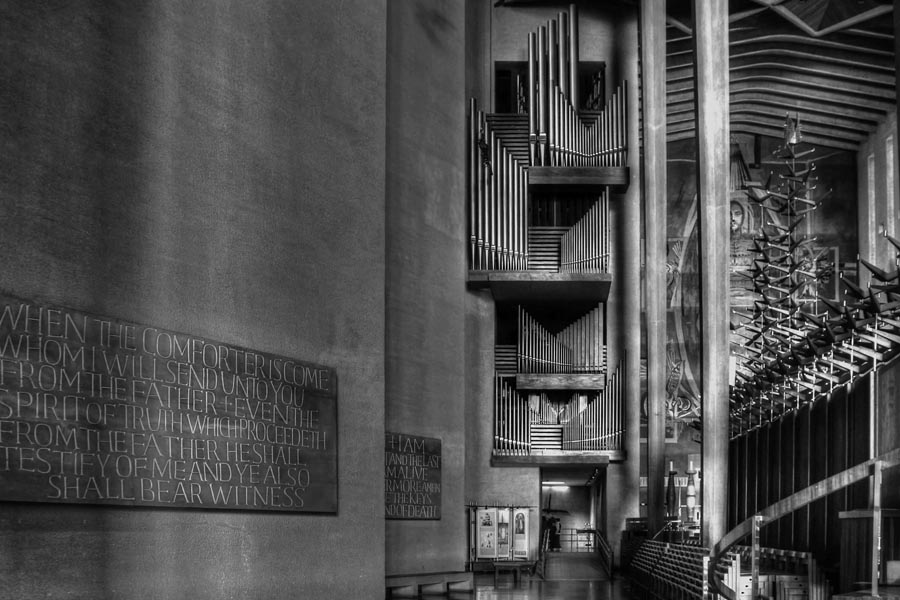 Coventry Cathedral ©Alan Hitchcock
The bishop, Neville Gorton (1888-1955), was in the vanguard of liturgical reform at a time when spaces for the celebrant, choir and congregation were being reconsidered, but the eventual building has a traditional sanctuary, choir and nave, albeit within a single space. The vaulted structure engineered by Ove Arup is remarkably light, its columns terminating in a narrow steel rod at floor level.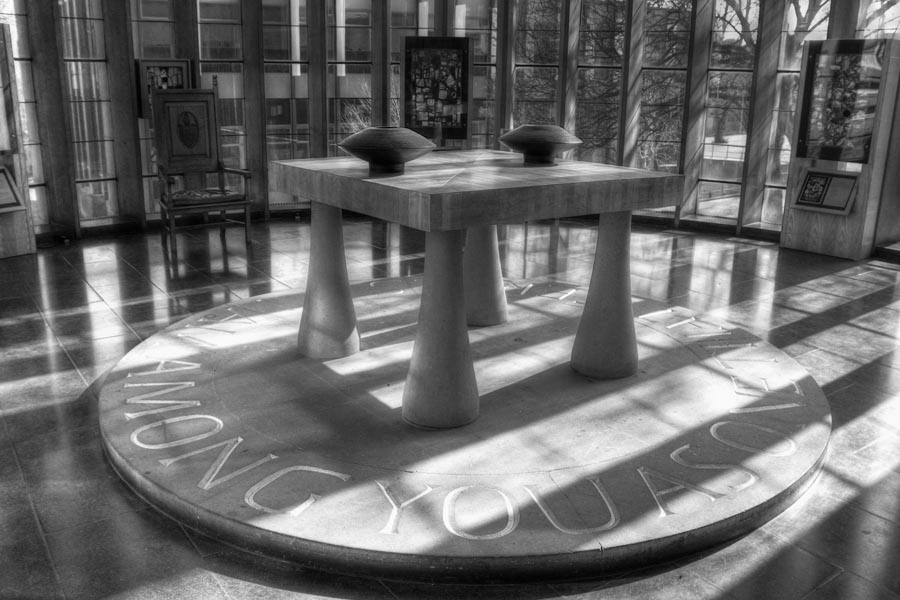 Coventry Cathedral ©Alan Hitchcock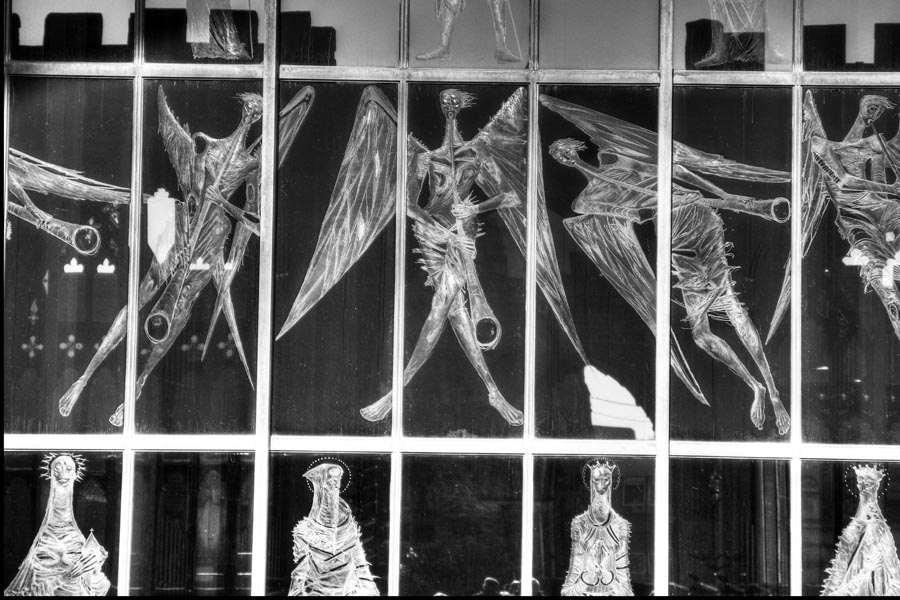 Coventry Cathedral. Detail of the windows ©Alan Hitchcock
Spence drew on his experience as an exhibition designer to fill the Cathedral with fine fittings and artworks. They include Graham Sutherland's tapestry of Christ in Majesty and ten windows by Laurence Lee, Keith New and Geoffrey Clarke that established the Royal College of Art's reputation for glass-making. They were followed by John Piper's baptistery window and Jacob Epstein's sculpture of St Michael quashing the devil. The Chapel of Unity shared with other Christian denominations (a pioneering concept in the 1950s), expresses its concrete structure more forcefully, with dalle de verre by Margaret Trehearne.
The Cathedral is now recognised as one of Britain's greatest post- war repositories of art and culture. Many reflect a spirit of post-War reconciliation, reinforced by the Cathedral hosting the première of Britten's War Requiem as its first major musical event, and with a multinational cast, in 1962.
I chose Coventry Cathedral as it represents the spirit of post-War optimism and reconciliation, embodied in the best of British architecture, art and music of the time. There is no hesitancy, and it shows. But it doesn't turn its back on the old, in the way that the approach to the Cathedral is framed by the evocative ruins of its mediaeval predecessor, a reminder of the conflict and terrible destruction from which the new cathedral rose.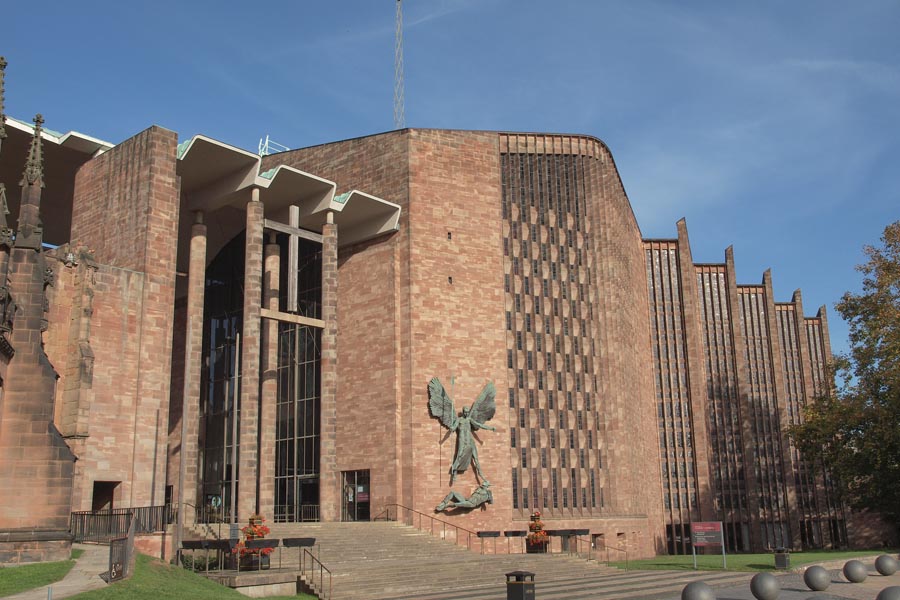 The magnificent exterior of Coventry Cathedral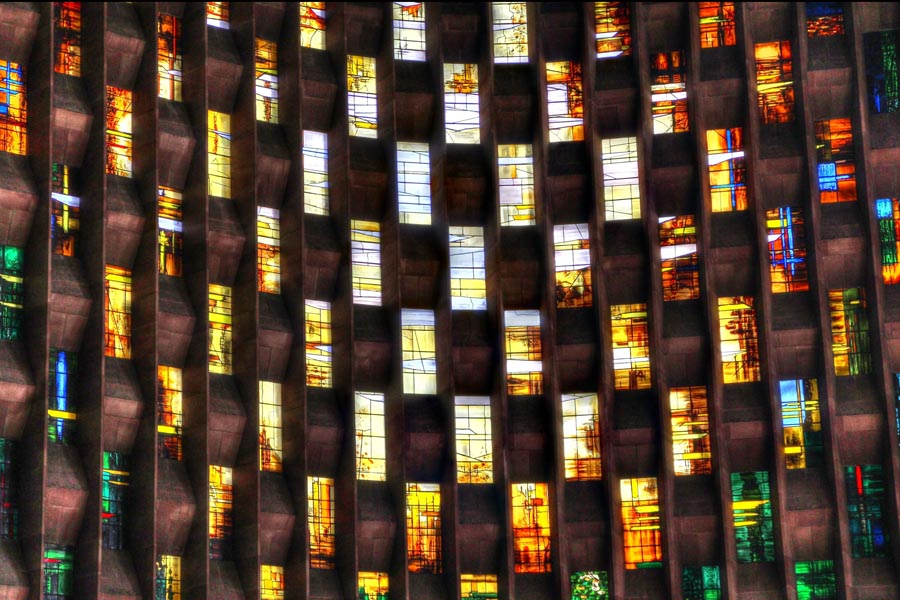 Coventry Cathedral. The stained glass windows ©Alan Hitchcock
A fascinating programme which follows the reconstruction of Coventry Cathedral
Watch here: https://www.bbc.co.uk/programmes/m000wvm3