The iconic Battersea Power Station finally opened its doors on October 14th, 2022 © Charlie Round Turner.
Battersea Power Station, once described as a 'temple of power' equal to St Pauls, created controversy at its conception, suffered a delayed birth and although it 'died' peacefully, created controversy again during its resurrection.
An aerial shot of the power station and the regeneration of the surrounding area © Jason Hawkes.
Due to its immense size this is a building that inspires emotions, creates an acknowledgement of its existence to those who are aware of it, no matter how they came across the building.
My memory of the power station starts at an early age, passing it by on the train to London, agog at its size, the huge mounds of coal at its side and the vast cranes and conveyor belts needed to feed the boilers. For a boy from, then rural, Surrey this was unlike anything ever seen before.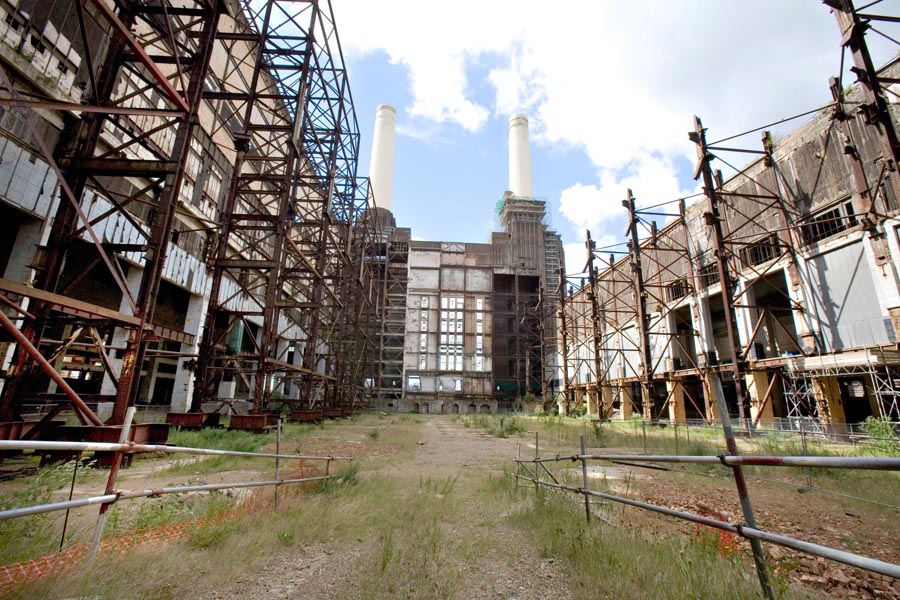 The abandoned power station in 2007 © Battersea Power Station
The idea of one large scale power station to supply a fifth of London with electricity caused great controversy, even more so when the first designs were seen. The President of RIBA and the Archbishop of Canterbury, amongst others, were horrified, even King George V 'commented'. Sir Giles Gilbert Scott was called in to 'stop an eyesore being developed'.
He took the basic construction design of steel and brick, very much the way the skyscrapers of the time were being built, and created the design features, such as the classical style fluting to the chimneys, that led the building to be voted the 2nd favourite modern building in a 1939 survey by Architectural Review.
And so the emotions stirred by the building had started. It was the biggest brick building in Europe, it featured in films, even one with the Beatles, and most memorably it provided the graphic for Pink Floyds 'Animals' album cover in 1977. (The favourite band of the now not so young boy on the train.) The power station had become known – worldwide.
It became a national Heritage Site in 1980 and served London until 1983, when it ceased power generation and subsequently stood silent.
It then took nearly 30 years of argument, being sold, being acquired, having restoration plans tabled and rejected before finally being purchased by a consortium of Malaysian developers in 2012. They appointed Wilkinson Eyre in 2013 to sympathetically restore the historic structure and so resurrect the building back to life, albeit a very different life, but one fit for the 21st century and beyond.
An early shot of the Turbine Hall © Ian Lidell
And so this building survives, largely thanks to the architectural contribution of Sir Giles Gilbert Scott. If nothing else, this building champions the lasting importance of the architects' eye for design and of those human strengths of resilience and purpose. Long may it continue to do so.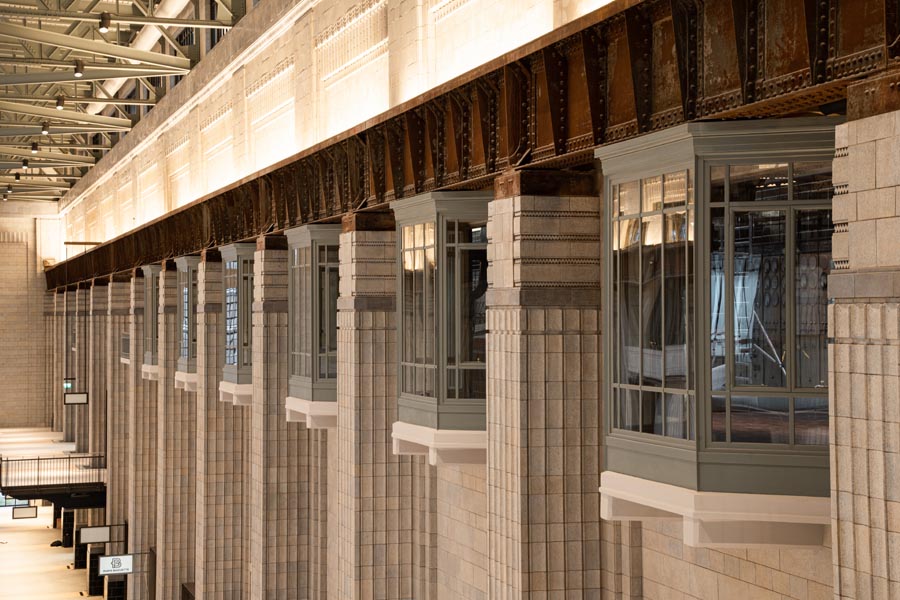 A close view of the renovation of Battersea, highlighting the attention to detail © Backdrop Productions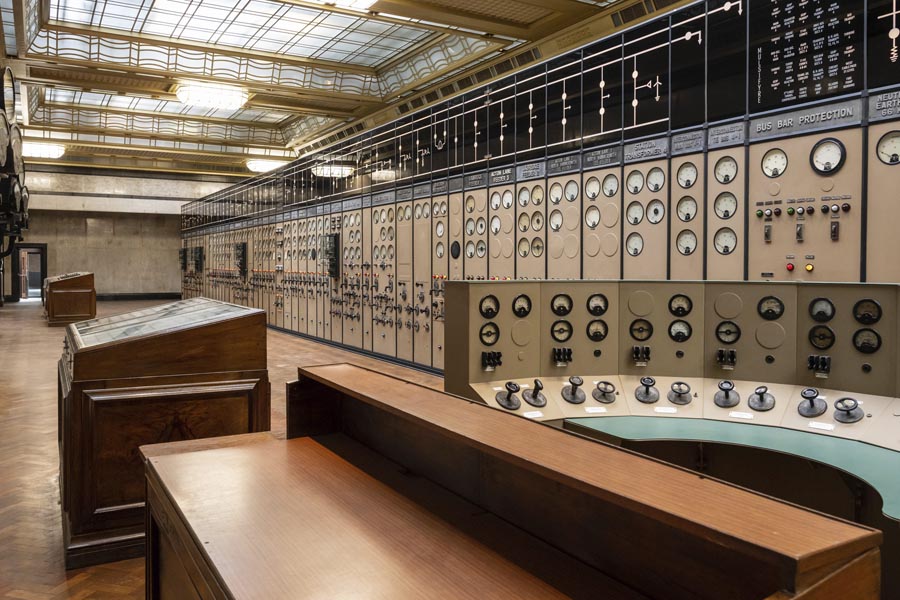 The renovated Control Room © Wilkinson Eyre
Interesting Facts:
The power station was designed by Dr Leonard Pearce, the chief engineer of the London Power Company. He engaged J. Theo Halliday as the architect. The design was disliked and Giles Gilbert Scott was brought in to make the building 'more beautiful.'
It was built in two identical halves, with Battersea A being built between 1929 and 1935 and generating electricity from 1933.
Battersea B was started in 1937, construction paused in 1941 and was eventually completed in 1955
Approximately 6,000,000 bricks were used to build it
It was capable of generating over 500 megawatts of electricity
The boiler house is 50m tall, the chimneys 101m tall
It consumed 1,000,000 tonnes of coal a year
Its cranes could unload 480 tonnes of coal an hour
It could take up to 340,000,000 gallons of water a day from the River Thames
In the 1950's waste heat was supplied to the Pimlico District Heating Undertaking
On the 20th April 1964 is suffered a fire causing power failures throughout London and so delayed the launch of BBC2 that evening