..It's therefore both a boldly modern building and one which unobtrusively makes complex historical references.
There is something very appealing about the simple geometric forms of Arnos Grove tube station—it feels as if it ought to look sleek and futuristic, but somehow it's most like a biscuit tin with a skinny breadboard balanced on top. It's both cool and comforting.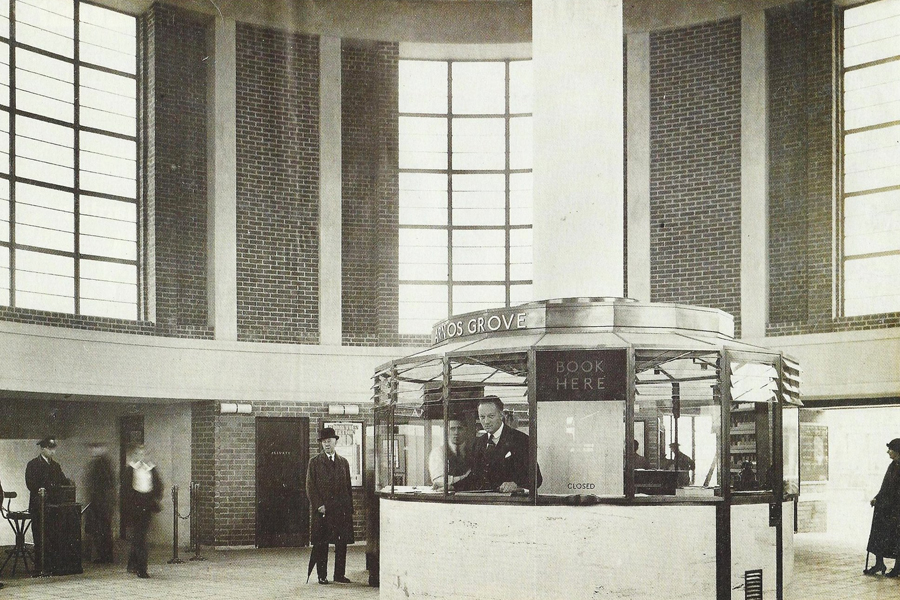 A vintage image of the ticket hall © Paul
I live on the southern end of the Northern line, and have always felt that the stations Charles Holden did for us (and those along the western end of the Piccadilly line) were rather less exciting than the northern Piccadilly line extension ones, of which Arnos Grove is definitely the star. From Clapham South to Morden, Holden's Northern Line stations are built as if to kick-start suburban shopping parades, with rectilinear facades hugging the pavement line. Arnos Grove is very different—a tight little freestanding structure which has been a listed building since 1971. It gives a real sense of occasion to taking the tube, and acts as a distinctive landmark in an otherwise fairly uniform bit of three-bedroom semi-land.
Stepping into the booking hall and plunging down the escalators feels like inserting oneself into the pneumatic delivery system of an early C20 department store. The building reads as the projecting tip of a big underground alternative universe with a different rhythm of life.
The station looks particularly great at night. Passing through its glowing form adds excitement to the prospect of an evening out in town, and enhances a friendly homecoming. Its amazingly unaltered and retains lots of original features from the 1930s, including the grandly named "passimeter" – basically a fancy term for ticket booth and turnstile.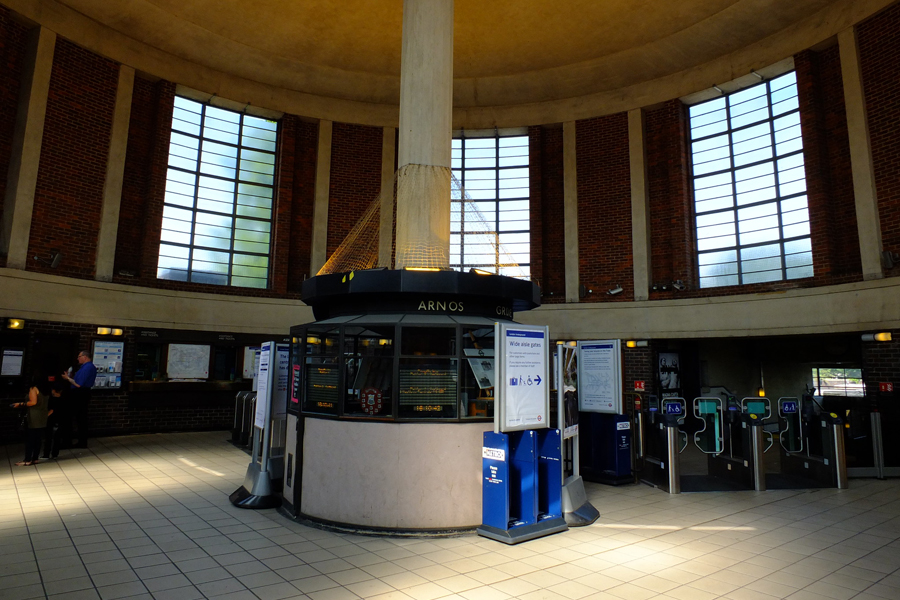 The ticket hall at Arnos Grove today
Inside the exposed concrete roof is supported on a single giant, concrete column, recalling the dramatic structure of a chapter house in a medical cathedral. Outside the flat oversailing rim of the circular concrete roof has a dentilled soffit, such as is found over the cornice of classical buildings. It's therefore both a boldly modern building and one which unobtrusively makes complex historical references. It's an excellent example of good, inspiring design put to everyday use. And it's worked brilliantly for nearly a century.
...Homely yet magnificent, modest yet capacious, the design of Arnos Grove is a brilliant architectural tightrope act. In London, despite the bravura qualities of some of the stations built in the 1990s for theJubilee line extension, its design has never been bettered.

Jonathan Glancey writing for the Guardian