The Alexandra and Ainsworth estate showing the ziggurat-shaped terraces.
Young people see the built environment from an extraordinary perspective. Imagine starting your career faced by the turmoil we've stacked up. Climate breakdown, soaring costs, the shortage of good quality affordable homes, the slow pace of decarbonisation. The list is long and crushing.
I'm lucky to see some of the creative and positive ways that young people are responding to these problems through my role at the education charity MOBIE. We support young people, from primary level upwards, to develop confidence in home design, sustainability and innovation.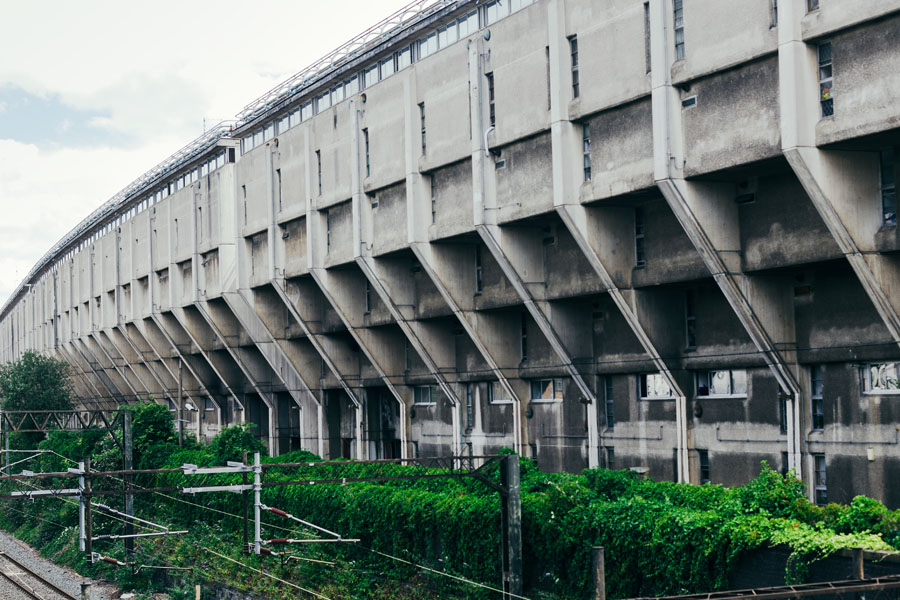 The Alexandra and Ainsworth estate showing the nearby railway line. The building's shape protects it from noise.
Thankfully, young people are not shying away from the mess we've created. In fact, they're energised by it. They're imagining new ideas for principled ways of building. Homes not about aesthetics but about bold ideas. Designs which address social problems, protect the environment and improve lives and communities. The next generation of designers are driven by solving our mistakes and it's astounding.
I wanted someone younger to talk about the buildings that inspire them. So, I'm co-writing this piece with Ben, a 17-year-old who was highly commended in the Design Future London challenge MOBIE ran with the Mayor of London this year.
After exchanging a few emails, we decided on the Alexander and Ainsworth housing estate. I think it's a fantastic choice that reflects the energy and optimism I've seen in young people's ideas today. It's a wild piece of architecture. It seems almost unbelievable now that they ever built it. The scale of the vision, the progressive social values, the innovation, the healthy naivety. Similar to today, Camden's team of young architects faced their own set of challenges in the 70s and their response brims with hope, empathy and ingenuity. For me, the hidden youth club typifies the spirit of the project. Not in the brief, but disguised in the plans by Neave Brown because he felt it was socially so important. To see young people taking inspiration from this scheme is a fitting tribute.
Owen Jones, Architect and Head of Design at MOBIE
On the estate everyone has access to outside space.
The Alexandra & Ainsworth Estate was renowned architect Neave Brown's direct response to the rise in construction of high-rise blocks of flats all over London, by looking back at the past and revisioning the traditional Georgian terrace, with a community- centric emphasis encouraging social interaction between residents, something that tower blocks often failed to achieve. The scheme is arguably the most significant amongst a multitude of other cutting- edge landmark estates commissioned by the Camden Architects Department, which was led by Sydney Cook.
The Alexandra & Ainsworth Estate's significance lies in the ambitiousness and ingenuity of the design. The 16 acre site comprises three rows of substantial ziggurat-shaped terraces. This shape allowed for spacious outdoor balconies, as well as more exposure to natural light. The tallest, eight-storey block to the north also utilises this shape to block noise of passing trains from the nearby railway which runs parallel to the estate. But most notably, its shape gave these terraces their iconic appearance, with the estate appearing to almost mimic a canyon, with its rock-like texture, integration of plants and foliage and overall organic form. Rowley Way acts as a main focal point, resembling a traditional street to give residents more opportunity to meet and socialise. To the south, the Grade II* listed park within the site provides opulent amounts of green space for residents of the estate and the greater area, with eminent attention to detail in its landscaping.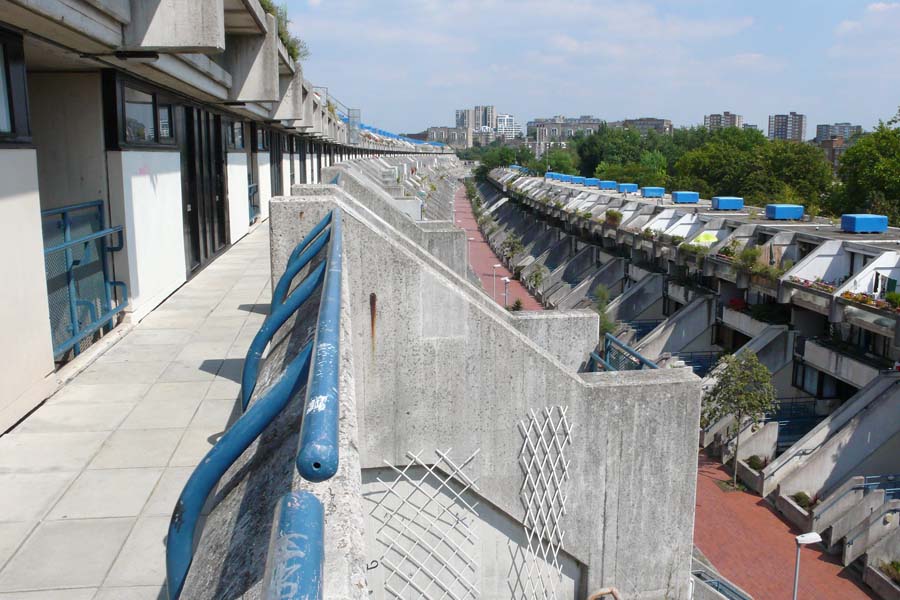 Looking up Rowley Way, a lane that allows the residents to interact without traffic.
I also believe that the Alexandra and Ainsworth Estate holds weight socially. It's a shining example of a collective sense of community that was prominent at the time, and was realised with enormous effort by a number of London councils to clear the dilapidated, Victorian slums that blighted London's landscape at the time. It was the realisation of a vision to build new, high quality, yet still high density, housing, with modern amenities and cutting-edge designs. It comes from a time when public sector housing was not seen as an afterthought. Each council possessed their own innovative young architecture departments, each with their own unique ideas and perspectives for public sector housing. The Alexandra and Ainsworth Estate is perhaps the best examples of this mindset, as it continues to be an exciting and aspirational place to live, despite being built as a council estate. There is a continued sense of community and pride among residents for where they live, and this was all achieved at a time of major industrial unrest and economic uncertainty, in some areas to a greater degree than today.
With its bold concrete construction, there's no question that the Alexandra and Ainsworth Estate is brutalist. As a result it has received some criticism; architecture is subjective. But by looking closer, details in the design stand out. Elements such as the aforementioned inclusion of nature in its design, attention to light and space, and details like the spiral staircases, leading to the underground car park, and the sculptural, expressive use of concrete around the site add emotion to the design.
I admire brutalist buildings. They are proud to show how they were constructed, and exploit a strong and in some ways uncompromising sense of materiality, shape and texture.
With this in mind, past schemes, like the Alexandra and Ainsworth Estate, can be of aspiration today, particularly at a time now where housing in London is unattainable to many. We may have an opportunity today to take note of what these schemes did right, building them better, more advanced and modern, with greater attention to sustainability and wellbeing.
Ben Elworthy, Student